When installing software on Microsoft Windows server operating systems like Microsoft Windows Server 2008, I like to create a small number of frequently used programs and folders such as the ODBC DSN panels (see related article, More Fun with 64-bit Windows and ODBC) as desktop shortcuts.  By default, these shortcuts are placed on my personal desktop, stored in a folder like C:Users\<username>\Desktop. But you can share these desktop shortcuts with your fellow administrators by using Windows Explorer to copy the shortcuts from your personal desktop to the public desktop, which is located at C:\Users\Public\Desktop. The public desktop is a hidden folder, so you'll want to show hidden folders in your Windows Explorer.  Choose Organize from the Windows Explorer menu, then Folder and search options. Choose "Show hidden files, folders, and drives" from the "Hidden files and folders" option on the View tab, as shown below.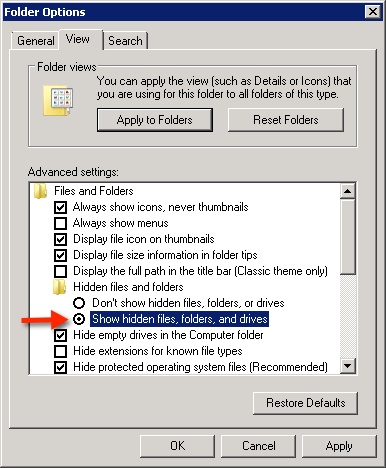 Don't go overboard with too many shortcuts and annoy your coworkers, but here are some suggestions:
32-bit ODBC DSN Panel

64-bit ODBC DSN Panel
Tomcat Configuration
SAP BusinessObjects Central Configuration Manager (CCM)
SAP BusinessObjects BI Launchpad
SAP BusinessObjects Central Management Console
SAP BusinessObjects File Repository Server folders, if on remote server
What kinds of Microsoft Windows tricks do you use to make administering SAP BusinessObjects easier?