One of the "features" of Explorer 4.0 was that it only worked with UNX universes created with the new Information Design Tool and not UNV universes created with the classic Universe Design Tool. In a recent article, Helpful Hints for SAP BusinessObjects Explorer XI 3.2, I noted that this "feature" created a difficult (but not impossible) upgrade path for SAP BusinessObjects Enterprise XI 3.1 customers who had already adopted Explorer. I also mentioned SAP KB 1858836, which describes how to enable UNV support for Explorer in BI4.0, which was quietly introduced with Support Pack 6 (SP6). However, SAP has now locked the article, preferring instead to boast that UNV support is a new feature of SAP BusinessObjects Business Intelligence 4.1, which is currently in ramp-up and will be generally available later this year.
If you have patched BI 4.0 to SP6 or higher, you can hack Explorer by adding the following command in Explorer's Advanced Configuration in the Central Management Console (CMC)
com.sap.explorer.unv.enabled=true
You must restart the Explorer servers (Master, Index, Exploration, and Search) before the change will take effect. Because UNV support is implemented via the Web Intelligence Processing Server, you may also have to increase the value of its Maximum Character Stream Size (MB) parameter (see related post, Viewing Large Web Intelligence Documents with Mobile BI).
You can confirm that UNV support has been correctly enabled if the UNV option appears on the Manage Spaces tab.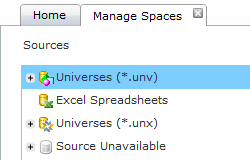 For the record, I have not tried to see if this setting has worked all this time in earlier patch levels. If it works prior to SP6, please leave a comment.
UPDATE (08/30/2013): In SAP BusinessObjects Business Intelligence 4.1, UNV functionality is enabled by default and does not require this Advanced Configuration hack.