UPDATE: Mobile thumbnail size was updated in SAP Mobile BI 5.0. Read this article instead.
If Jeopardy host Alex Trebek was on vacation and SAP solution manager for mobile analytics Karsten Ruf was his guest host, a contestant might say,
"Karsten, I'll take Undocumented SAP BusinessObjects Mysteries for $500."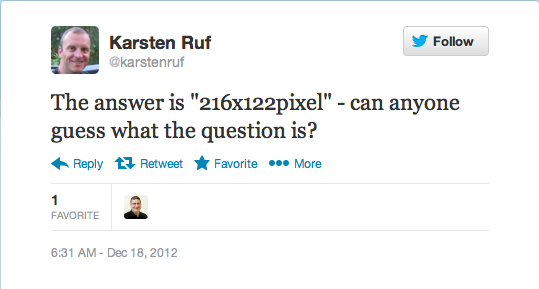 Karsten might ask "The answer is 216×122 pixels – can anyone guess what the question is?"
"Karsten, What is the proper size for a thumbnail image for SAP BusinessObjects Mobile BI?"
"Correct!"
Despite a lot of really valuable information in the Administrator and Report Designer's Guide for SAP BusinessObjects Mobile for iOS 4.4.x on the SAP Help Portal, the desired image size for thumbnails is currently undocumented.  The best information I could get from a call to SAP Support was to not worry, the image would automatically resize. However, without knowing the proper dimensions, your attractive company logo might turn into a Salvador Dali painting. Definitely not cool.
Be sure to put a line item in your mobile BI project plan to either resize your organization's logo yourself or ask somebody in the corporate art department to help you out.  You'll want to create a JPEG or PNG image that's less than 100 KB in size and has the dimensions of 216 pixels wide by 122 pixels high. In addition to your organization's logo, you'll want to create some additional thumbnails for various subject areas like finance. Using stock photography (I recommend iStockphoto) or images culled from your organization's official web site.
I'm no Adobe Photoshop expert, but I've been able to produce great results with Pixelmator for Mac OS X, a very affordable image editor in the Apple App Store.
I'm confident that the mobile thumbnail dimensions will be documented in the forthcoming SAP BusinessObjects Business Intelligence 4.1 manuals. But until then, remember 216 by 122.
What kinds of images is your organization using for mobile thumbnails?