In preparation for this week's SAP SAPPHIRE event in Orlando, SAP has quietly updated the SAP BusinessObjects Explorer app in the Apple iTunes App Store.  The previous version (which, thankfully, does not get overwritten by the update) only required a link to the Explorer server, such as http://[servername]:[port]/polestar.  The new version has some additional requirements that are ruffling feathers at customer sites.
Note: To use SAP BusinessObjects Explorer app with your business data, you must have installed SAP BusinessObjects 3.2 SP2 release of SAP Business Explorer and SAP BusinessObjects Enterprise XI 3.1 FP 3.4 including the SAP BusinessObjects Mobile Server.
In BI4, SAP has integrated the mobile servers into the Central Configuration Manager (CCM) and installs them by default.  However, in XI 3.1, the mobile servers aren't as well-integrated.  Plus, requiring customers to embrace a Fix Pack for new functionality instead of a Service Pack is an interesting move, as conventional wisdom is to only install Fix Packs to correct problems.
Thankfully, SAP has released Explorer 1.02 which has a new "Connect via Mobile Server" switch on the Settings screen. Simply leave it in the default position (OFF) and enter the Explorer Server URL, http://[servername]:[port]/polestar.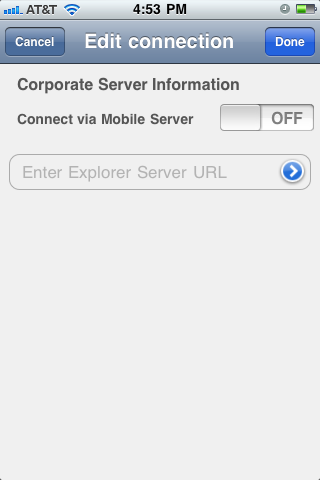 If Mobile BI is in use, simply flick the switch and enter the URL for the mobile server.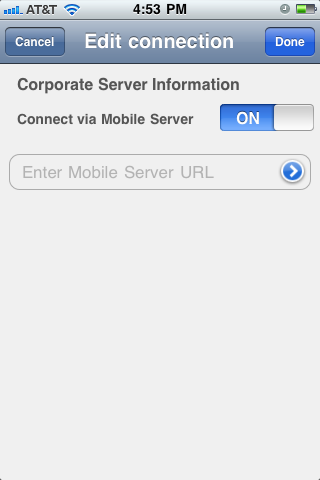 If you have configured BI Mobile, the URL for the Mobile Server is brain-dead simple.  Just http://[servername]:[port number] and the Explorer app does the rest of the work to find the mobile directory on the web application server.
SAP BusinessObjects Explorer is a great application that extends your organization's BI to casual users and mobile devices.  It's ready to deploy on the XI 3.1 platform today and will soon be available with the rest of the BI 4.0 suite.  I'm anxious to learn more about mobile BI at this week's SAPPHIRE conference.  And I hope to report in a future post how to install and configure the BI Mobile XI 3.1 servers for Explorer on iOS.