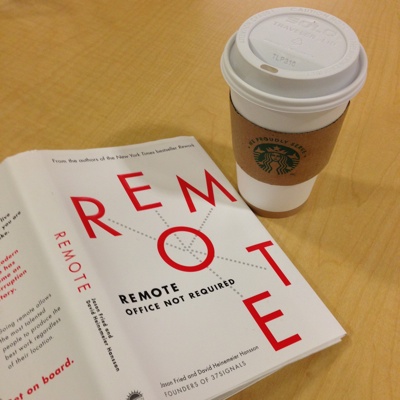 Remote: Office Not Required (Crown Business, ISBN 978-0804137508) is a collection of short essays on the benefits of remote working, or working from home. I first discovered Jason Fried when my friend (and at the time, client) Jody Bankston asked me to read Rework, Jason Fried and David Heinemeier Hansson's previous book. Both books use a similar format- short 2-3 page articles, many taken from blog posts, organized into chapters. The benefits of remote work are summarized nicely from the book's back cover.
Going remote allows the most talented people to produce the best work regardless of their location.
Working remotely might sound like a great idea for a small company like 37signals. But what about larger organizations? The authors cite a 2009 IBM White Paper, Working Outside the Box, listing a range of companies from small organizations with fewer than 1,000 employees to large organizations with greater than 100,000 employees.
Quality of life is extremely important to the founders of 37signals and remote working is merely one aspect of their corporate culture. Since the publication of Remote, the company has made news for their decision to prune their software offerings down to one offering- Basecamp- and rebrand the company around it (See related Inc. Magazine Article, Your Business Is Booming. Time to Change Course). Keeping one's sanity and managing a small yet extremely successful organization is a higher corporate value to them than creating a monster.
Remote work, while having many advantages, doesn't solve all the organization's problems.
Remote work is not without cost or compromise. In this world very few leaps of progress arrive exclusively as benefits.

Remote, by Jason Fried and David Heinemeier Hansson, page 43
There's an entire chapter dedicated to this topic entitled "Beware the Dragons". As somebody who currently works remotely, I can attest to many of these dragons. I appreciated the frank advice on how to deal with them.
Remote working doesn't work in all cases and may not work all the time. But smart employers will permit it in some cases (perhaps one day per week?) and put the technical infrastructure in place to support it.
Does your employer support part-time or full-time work from home? I'm curious to hear how it works in a business intelligence context. Feel free to share your thoughts below.
Disclosure of Material Connection: I purchased this book with my own funds. It was not a free review copy. I was not required to write a positive review. The opinions I have expressed are my own. Some of the links in the post above are "affiliate links." This means if you click on the link and purchase the item, I will receive an affiliate commission. Regardless, I only recommend products or services I use personally and believe will add value to my readers.I am disclosing this in accordance with the Federal Trade Commission's 16 CFR, Part 255: "Guides Concerning the Use of Endorsements and Testimonials in Advertising."