UPDATE: The SAP BusinessObjects BI 4.0 mobile content was pretty lackluster but customers adopting BI 4.1 or higher will now find useful mobile samples that I've written about here.
There's an LCMBIAR file SAP BusinessObjects Business Intelligence 4.0 folder structure named Mobile sample report.lcmbiar in the <Installation Directory>/Mobile 14/ReportSamples/ folder. You may wonder why the installation program doesn't bother to load it. Wonder no more.
I was curious about its contents, so I loaded it using Promotion Management (formerly known as Lifecycle Manager, or LCM) in the Central Management Console (CMC).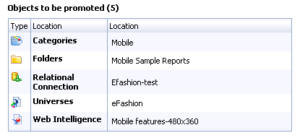 The LCMBIAR file contains five objects. First, there's a single Web Intelligence document, Mobile features-480×360, that is placed in a new folder, Mobile Sample Reports. The LCMBIAR also contains the Mobile category, which as of BI 4.0 Support Pack 4 still isn't created by the BI4 installation program. The rest of it is nothing special, just the eFashion universe and a connection to make it all work.
It's immediately obvious why this sample content isn't loaded by the BI4 installer. The sample report doesn't work properly on the Mobile BI app for iOS. The description of the Mobile features-480×360 document says "This report is best viewed in Mobile with the resolution 480×360. On of the example is Blackberry 8900." The Blackberry 8900 is a 3-year-old mobile device. The Web Intelligence document contains several tabs, but several (even using the latest Mobile BI 4.2 for iOS app) show the infamous "Content not supported" error.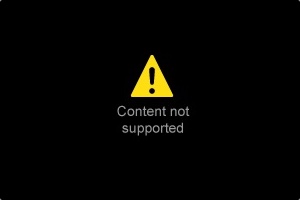 Be advised that the Web Intelligence document is not properly tagged with the Mobile category when loaded from the LCMBIAR. You will have to manually tag the document with the Mobile category before it will show up in the mobile app.
So for now, the easiest way to demo the Mobile BI app is its own sample content, not the content that comes with the BI platform. The sample content on the BI platform needs a complete overhaul- see #10 in Ten Features that Absolutely Must Be in Feature Pack 3– but we are still waiting. Perhaps for next year's SAP BusinessObjects Business Intelligence 4.1 release?
But today, the best way to demo mobile business intelligence is to use your organization's own data, not the vendor samples.