Over the weekend, SAP released SAP BusinessObjects Mobile for iOS 4.2 to the Apple iTunes App Store.  The app requires iOS 5.0 or higher and is the first version of the app to support the iPhone (iPhone 4 and iPhone 4S) and iPod Touch. This development could be either good or bad news, depending on your view of Thomas Wailgum's ASUG News article "iPads, Email and Business Apps: Enjoy Your Summer Work-cations!"
What's New in Version 4.2.0
• Display of hierarchical content from data sources supported in SAP BusinessObjects Web Intelligence
• Support for iPhone (iPhone 4 and iPhone 4S)
• Enhancements to home screen for better organization of BI content
• Application password for secure offline data storage
• Support for authenticated reverse proxy deployment scenarios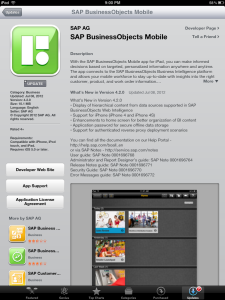 You can find all the documentation on the SAP Help Portal or via the following SAP Notes in the SAP Service Marketplace (S-ID required) :
SAP BusinessObjects Mobile for iPad User Guide: SAP Note 1696768
SAP BusinessObjects Mobile for iPad Administrator and Report Designer's Guide: SAP Note 1696764
SAP BusinessObjects Mobile for iPad Release Notes: SAP Note 1696771
SAP BusinessObjects Mobile for iPad Security Guide: SAP Note 1696770
SAP BusinessObjects Mobile for iPad Error Messages: SAP Note 1696772
I'm surprised by the support for iPhone/iPod Touch. Anyone else?  I must have been sleeping through the roadmap presentation.  It made total sense to me for SAP to focus only on tablets as phones have too small of a work area for something like a Web Intelligence or Crystal Reports document. Still, the phone is an important form factor and I'm glad to see SAP extend support to it.
I really appreciate the SAP notes and the fact they are referenced right in the iTunes App Store.  The SAP Help Portal has turned into a bloated mess and it's really difficult to figure out which category from the drop down list will produce the desired documentation.  I've been told that the Explorer mobile app team will begin putting SAP Notes in their App Store documentation beginning with Explorer 4.0.8.
Notice that the app doesn't have an "Administrators Guide" but an "Administrator and Report Designer's Guide", so you might find the "Users Guide" a bit thin.  It may be a bit unintuitive to your report developers that they need to thumb through the Adminstrator Guide, but Web Intelligence and Crystal Report designers should definitely read through it.
Keep in mind that if you're using SAP BusinessObjects Business Intelligence 4.0 Feature Pack 3 or higher (for example, Support Pack 4), the old mobile infrastructure no longer exists in favor of the new mobile architecture originally introduced to support this application.  SAP Note 1713028 contains all of the interesting details. Also, certain features such as support for Crystal Reports require Support Pack 2 Patch 14 or higher.
I'm still trying to locate an SAP Note similar to 1738007 – Which versions of SAP BO Explorer Mobile are compatible with which version of SAP Business Intelligence? (Hint: it would be nice if this Explorer note cross referenced the BI Mobile app and vice versa). And I'm trying to track down a supported platforms document that confirms compatibility with iOS 5.1 and 5.1.1 rather than the vague "5.0 or higher", as minor iOS upgrades are still sometimes a challenge for SAP's development teams.
I'll continue to update this article as I learn new information and get the opportunity to put the application through its paces.