This week, I installed SAP BusinessObjects BI 4.1 SP1 as an upgrade to an existing SAP BusinessObjects BI 4.0 SP6 environment. BI 4.1 brings a lot of small refinements to the BI 4.0 platform but still whets our appetites for the release of BI 4.2 next year.
The Adaptive Processing Server
The Adaptive Processing Server in SAP BusinessObjects Business Intelligence 4.0 contained twenty-one discrete services. BI 4.0 Feature Pack 3 added the Insight to Action Service. And if the optional Design Studio server components are installed, there will be a total of twenty-four discrete services in a single Adaptive Processing Server.
Adaptive Connectivity Service
Analysis Application Service (optional Design Studio server component)
BEx Web Applications Service
Client Auditing Proxy Service
Custom Data Access Service
Data Federation Service
Document Recovery Service
DSL Bridge Service
Excel Data Access Service
Insight to Action Service (BI 4.0 FP3 and higher)
Lifecycle Management ClearCase Service
Lifecycle Management Service
Monitoring Service
Multi Dimensional Analysis Service (MDAS)
Platform Search Service
Publishing Post Processing Service
Publishing Service
Rebean Service
Security Token Service
Translation Service
Visual Difference Service
Visualization Service
Web Intelligence Monitoring Service
Introducing the System Configuration Wizard
Deciding what to do with the Adaptive Processing Server was probably the single most difficult thing in planning and sizing a SAP BusinessObjects Business Intelligence 4.0 environment. Over time, SAP provided much better documentation and a fairly cookbook approach to how to split the Adaptive Processing Server and modify Java heap sizes.
Most of these best practices have been incorporated into a new System Configuration Wizard that can be found in the BI 4.1 Central Management Console.

The adventure awaits…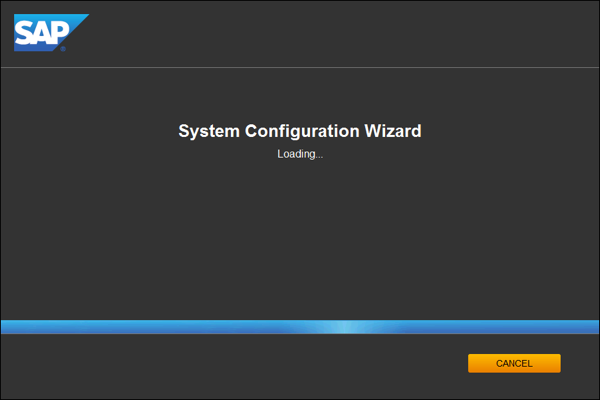 It's not a wizard unless it has a chipper greeting.

Select the products you are using. This step goes beyond just the Adaptive Processing Server configuration and will shut down services that you're not using. I'll keep all of them selected.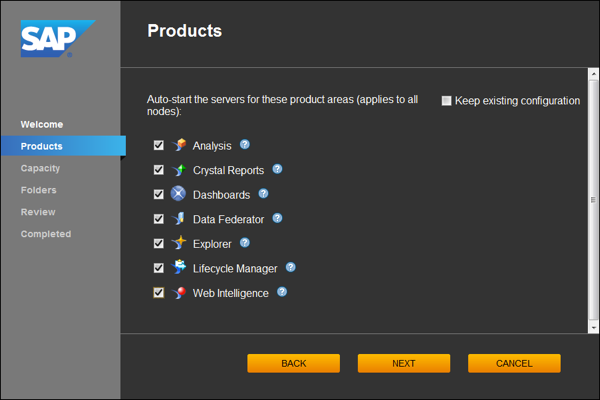 The next step is to choose server node capacity. Although my server has 32 GB RAM, I'm going to choose the 15-25 GB, or Medium, setting. Notice that the wizard will create 7 Adaptive Processing Servers with this selection.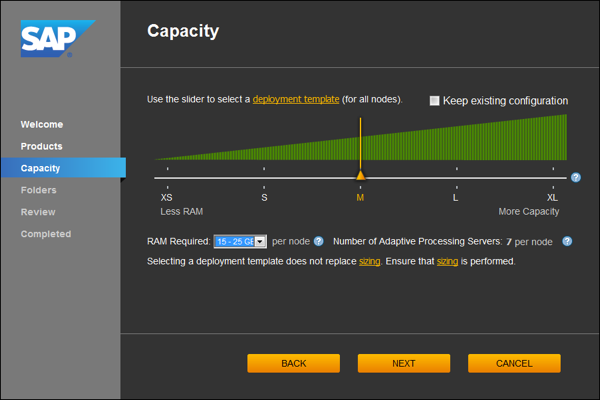 Next, choose the folders for the file repositories, logs, and temp space. In this case I'm upgrading from BI 4.0 and I'd like to keep my existing configuration.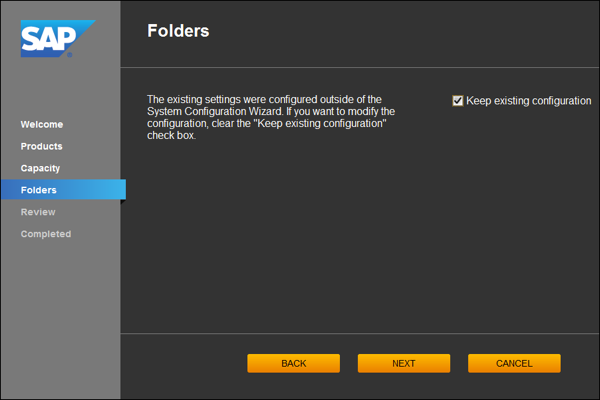 Almost there. Time to review how the wizard has been configured.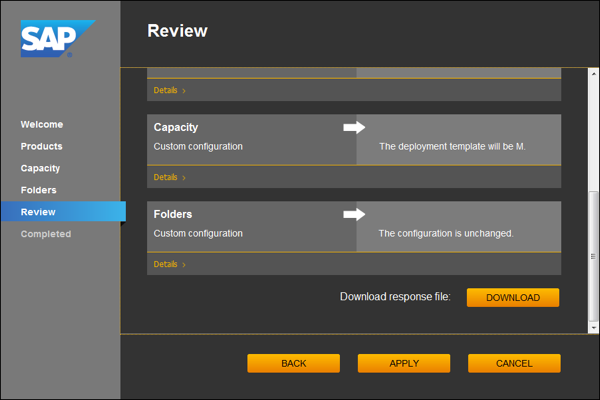 Are you sure?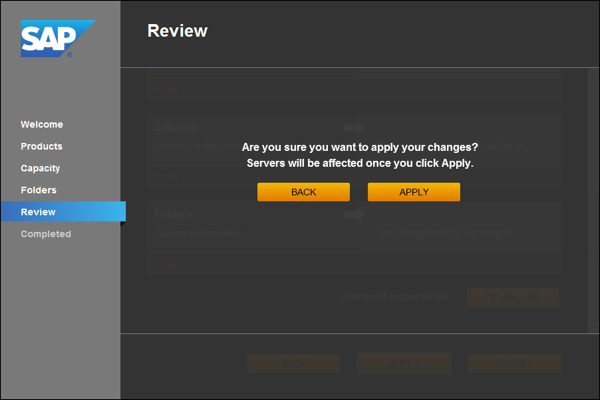 The mystic portal awaits!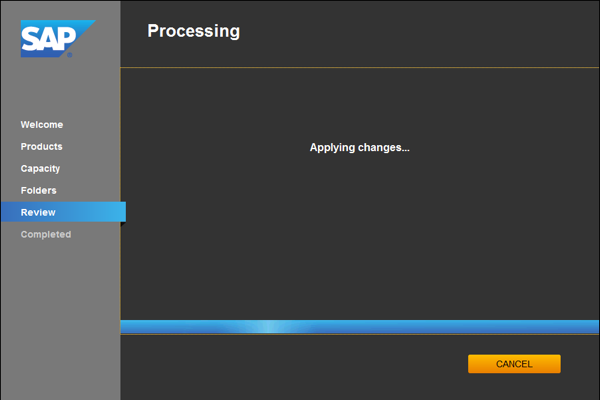 Changes are completed. You can download a log file as well as a response file.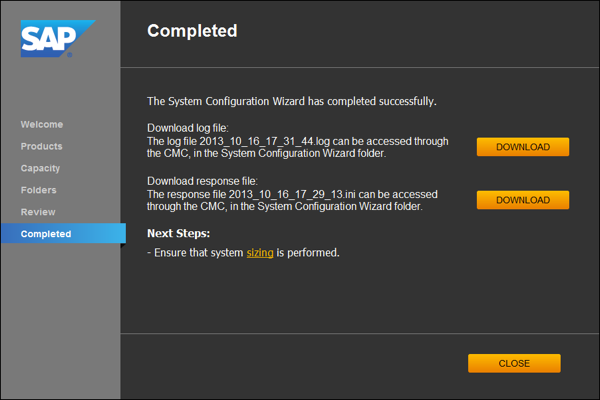 Java Heap Space
A subtle but much appreciated improvement in BI 4.1 is the UI for the command line parameters. Here's the text box in BI 4.0.

And here's the improved text box in BI 4.1.

It is now possible to set the -Xms and -Xmx parameters without waiting what seems like hours for the command line to scroll by as it did in BI 4.0. Notice that -Xms now defaults to 512m instead of 32m and -Xmx defaults to 2g instead of 1g. BI 4.1 also adds the +UseParallelOldGC garbage collection parameter, mentioned in the latest SAP BusinessObjects Sizing Companion Guide, that is supposed to improve performance.
Issues with the System Configuration Wizard
I'm really pleased with how the System Configuration Wizard turned out in its first incarnation. But there are a few minor bugs that are worthy of correction.
SAP BusinessObjects BI 4.1 and Design Studio
You'll want to take time to review what the Server Configuration Wizard did and possibly make some adjustments. My only gripe here is that the service for Design Studio is not recognized by the wizard. The two servers that contained my Analysis service, BEx Web Applications service and MDAS service are still intact but they only contain Design Studio's Analysis service. I will manually move it to the [node].APS.Analysis service, which is where the BEx Web Applications service and MDAS service now reside.


After calling SAP Support and being told that this behavior was "by design", I created an "enhancement" on the SAP Idea Place. Would you consider voting for my idea to include Design Studio functionality in the Server Configuration Wizard?
Duplicate CAPS Servers
For BI 4.1 SP1, both the Small (S) and Extra Large (XL) configurations create a duplicate Client Auditing Proxy Service. In each case, it's easy enough to remedy. For the Small configuration, stop the [node name].APS.Core server and remove the redundant service. For the Extra Large configuration, the redundant CAPS is in the [node name].APS.Monitoring server.
Default File Names for Log and Response Files
The default file names for the log and response files are unique, but I wished they included the server node name, as I'd like to copy them off to a common location and remember which environment to associate them with.
Conclusion
After two years of trial and error and a lot of reading, the Adaptive Processing Server is a lot less intimidating than it was when BI 4.0 went GA back in September 2011. The new System Configuration Wizard in BI 4.1 is well done and may be the most important feature worth upgrading to BI 4.1. Well, that and the Desktop Intelligence Compatibility Pack, of course.
Resources
Are you upgrading to SAP BusinessObjects Business Intelligence 4.1? I'd love to hear some other upgrade experiences.