The Year Without Pants: WordPress.com and the Future of Work (Jossey-Bass, ISBN 978-1118660638) is the latest book by Scott Berkun, a former project manager at Microsoft and author of another great book, Confessions of a Public Speaker. After several years working as an author and speaker, Mr. Berkun decided to return to the front lines by working at WordPress, the organization that creates software that powers "nearly 20 percent of the websites in the world, including half of the top one hundred blogs on the planet."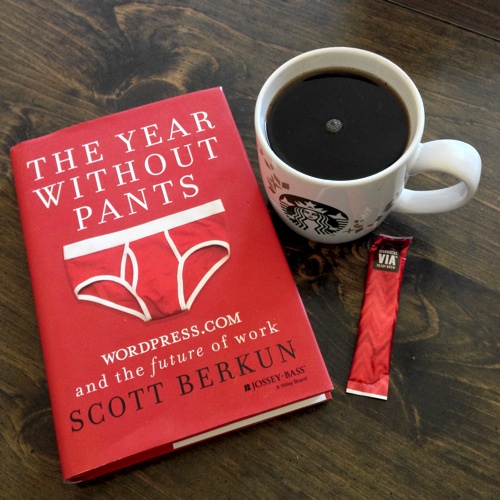 I had two ambitions in reading The Year Without Pants. First, my own blog is powered by WordPress and I knew I would enjoy an inside look at how the popular blogging platform was created. Second, in a model similar to WordPress, I work for a company where employees spend most of their time working from home and away from a centralized office environment. The author had similar ambitions:
This book has two ambitions: first, to share what I learned as an old dog in a futuristic workplace and, second, to capture the behind-the-scenes story of a good team at a fascinating company.

Scott Berkun
page 2
The Year Without Pants
I learned that the book's mildly provocative title and cover photo will certainly encourage conversation if you read it in public. Like his other work, Mr. Berkun skillfully combines practical advice— in this case about the future of work— with engaging storytelling about his personal experiences at WordPress. What you won't find is a prescriptive (or boring) how-to for creating a futuristic workplace, complete with project plans and charts. It's easy to dismiss the WordPress work environment with "that would never work here." And indeed, perhaps much of the advice wouldn't work in your current office setting. The model at WordPress works because its founder, the youthful Matt Mullenweg, has created a culture that supports the work environment.
[ youtube https://www.youtube.com/watch?v=Jjv2fm7CMgE ]
If you're interested in working remotely, you'll want to read The Year Without Pants along with Remote: Office Not Required (see related book review). I found the two differing perspectives helpful. But The Year Without Pants is also important reading if you're a software developer or a WordPress user that wants to see how the sausage gets made.
Disclosure of Material Connection: I purchased this book and did not receive it free from its publisher. Some of the links in the post above are "affiliate links." This means if you click on the link and purchase the item, I will receive an affiliate commission. Regardless, I only recommend products or services I use personally and believe will add value to my readers.I am disclosing this in accordance with the Federal Trade Commission's 16 CFR, Part 255: "Guides Concerning the Use of Endorsements and Testimonials in Advertising."