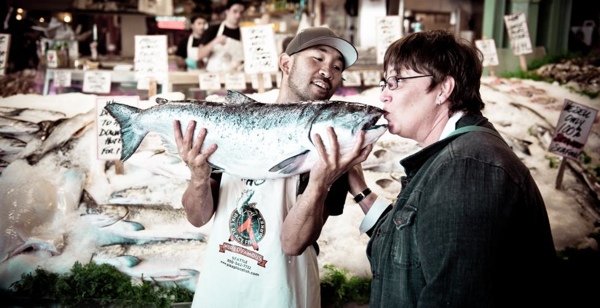 When Fish Fly: Lessons for Creating a Vital and Energized Workplace (ISBN 978-1401300616) is a small book that's easy to read on an airplane or over a weekend but its wisdom might take years to master. Written by John Yokoyama, founder of the World Famous Pike Place Fish Market in Seattle, Washington and Joseph Michelli, author and organizational consultant, the book describes how the popular Pike Place Market attraction became "World Famous".
What started out as a joke to be "world famous" became a vision to provide world-famous customer service in a small, seemingly insignificant 1,200 square foot fish stand. The company has indeed become world famous, with media exposure and a thriving public speaking business. But the decision to be world famous is something that must be continuously nurtured by each employee, starting with its CEO.
As we continued to contemplate the meaning of world fame as it related to us, it became clear that we intended to make a world famous difference by having a positive impact upon each person we encountered. To this day, we continue to define world fame as situations come up a the market. What is it to be world famous, for example, when things are slow at work? What does world famous look like when customer treat us badly?
Management is frequently concerned about what employees are doing, but exceptional customer service begins with the inner game- the mental attitude behind our actions. This book has challenged me to self-monitor and ask myself, as John Yokoyama does many times each day, "Who am I being right now?" and to define myself not only by productivity, but by my ability to make a positive impact on each person I encounter.
Disclosure of Material Connection: I borrowed a copy of this book from a public library and did not receive it free from its publisher. Some of the links in the post above are "affiliate links." This means if you click on the link and purchase the item, I will receive an affiliate commission. Regardless, I only recommend products or services I use personally and believe will add value to my readers.I am disclosing this in accordance with the Federal Trade Commission's 16 CFR, Part 255: "Guides Concerning the Use of Endorsements and Testimonials in Advertising."