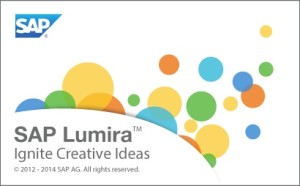 Will you still need me, will you still feed me, when I'm sixty-four (bit)?

Lennon–McCartney from Sgt. Pepper's Lonely Hearts Club Band.
New 64-bit engine leads SAP to sunset 32-bit Lumira Desktop
In a SAP Community Network article entitled 32-bit Lumira Desktop: Direction and Support Going Forward, SAP reveals that Lumira 1.25 (not yet released) will be the last edition of Lumira with 32-bit support.
SAP Visual Intelligence 1.0 (the original product name for what we now know as Lumira) was originally released as 64-bit. SAP Visual Intelligence 1.07 added 32-bit support based on customer feedback. I'm not surprised that SAP acted to meet customers wishes, but I was surprised that giving users, especially power users, a 64-bit operating system was such a large obstacle for SAP customers. Most of these same customers were deploying 32-bit Windows 7 on 64-bit hardware. Starting with the iPhone 5S and iOS 7, even pocket-sized smartphones sport 64-bit processors and operating systems.
SAP introduced its new "in-memory database engine", formerly known as the much hipper "velocity engine", in the latest 64-bit edition of Lumira Desktop, version 1.23 (see related SAP Community Network article, What's New in SAP Lumira 1.23). The 32-bit edition of Lumira Desktop will move into its impending retirement with the older IQ-based database engine. However, Lumira has reached a point in its development where new features (on the Lumira 1.26 desktop and soon to be on the BI 4.1 server) will require this new engine.
The new in-memory database engine will soon come to the SAP BusinessObjects Business Intelligence 4.1 platform as an add-on, allowing visualizations created with SAP Lumira Desktop to be viewed and refreshed in the BI Launch Pad (see related SAP Community Network article, Planned Native Integration of Lumira into BI Platform Details).
Will SAP BI 4.2 Client Tools Go 64-bit?
With SAP Lumira, SAP Design Studio, and even SAP Data Services Designer already available in 64-bit editions, will SAP BI 4.2 introduce 64-bit editions of "go-forward" client tools like Crystal Reports for Enterprise, Information Design Tool, and Web Intelligence Rich Client? Or does "interoperability" in the SAP BI tool simplification diagram mean that future versions of Crystal Reports and Web Intelligence will receive an adrenaline boost and also take advantage of the in-memory database engine?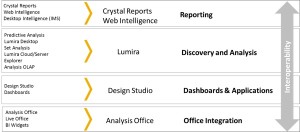 At this point, nobody outside of SAP knows but I'm sure we'll hear more details in the latter half of 2015.
Is Your Organization Ready for 64-bits?
One thing is clear. Now is the time to install 64-bit Windows on the workstations of your Business Intelligence Competency Center (BICC) team and the power users you support. Let your SAP Lumira Desktop pilot act as a catalyst in discussions with your enterprise desktop support organization. And while Microsoft is planning a 32-bit edition of its upcoming Windows 10, offer to be guinea pigs for your organization's Windows 10 pilot, insuring that 64-bit Windows 10 will be the operating system deployed to your core constituencies.
Resources
Are you ready to go 64-bit?