Last week, SAP delivered SAP BusinessObjects Business Intelligence 4.1 SP2 on-time and on-schedule. Earlier in the month, SAP delivered SAP BusinessObjects Business Intelligence 4.0 SP8, also on-time and on-schedule. But as you can see from the maintenance schedule, SAP will continue to deliver patches for 4.0 SP5, 4.0 SP6, 4.0 SP7 and 4.1 SP1 for the remainder of 2013.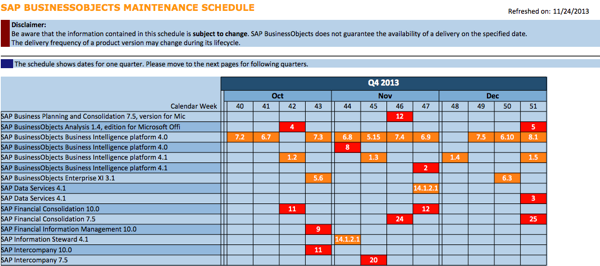 And all of those support packs will continue to be patched throughout Q1 of 2014. Even while work on BI 4.0 SP9 and BI 4.1 SP3 is already in progress.

What does this mean? It means that regardless of the support pack that you choose for your BI 4 upgrade, it will be missing patches from not one, but several previous support packs.
Having recently taken a customer from BI 4.0 SP6 to BI 4.1 SP1, I'm no longer interested in further patches to BI 4.0. I'd prefer to take my customer to BI 4.1 SP2, but sadly, I'm waiting for a bug in Analysis to be corrected in BI 4.1 SP1 Patch 5, which will be released in late December. And if I were starting a migration project from XI 3.1 today, I would be strongly inclined to pick the latest release of BI 4.1 rather than choose amongst four different patch levels of BI 4.0.
I'm sure SAP has reasons for continuing to patch four different support pack levels on BI 4.0 and two on BI 4.1. But I'm honestly stumped. If SAP's software development process was a chip architecture, I'd call it an "inefficient pipeline". It seems like SAP is spreading already-thin resources instead of putting their full weight behind BI 4.0 SP8 and BI 4.1 SP2, the latest patch levels of each release. After patching my customer to BI 4.1 SP 1.5, I can only hope that BI 4.1 SP3 will include patch 1.5 without making me wait until SP3 patch 13 for the Analysis fix to be "forward fit".
What are your thoughts? Are you eagerly waiting for next year's BI 4.0 SP6 Patch 12? Or are you wishing- like me- that SAP would make it easier for you to either make the leap to BI 4.1? Or feel better about the leap already taken?
Resources