In March 2015, I'll be speaking at SAP Insider BI2015 in Las Vegas, a WIS Publishing conference. It's actually four conferences in one, as HANA 2015, HR 2015 and SAP Admin 2015 will all be going on at the same time. EV Technologies is an event sponsor and I'll be joined by several of my co-workers.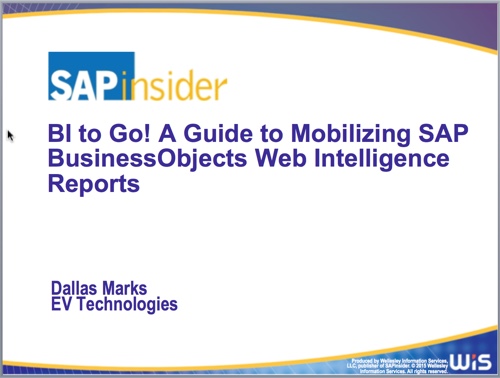 BI to go! A guide to mobilizing SAP BusinessObjects Web Intelligence reports
Tuesday, March 10, 2015 at 5:00 PM – 6:15 PM
Web and formatted reports track
This comprehensive session teaches you how to create SAP BusinessObjects Web Intelligence reports, as well as tailor existing reports, for tablet and smartphone devices. After a brief overview of how to make your BI environment mobile-ready, you will explore:
Techniques to master new mobile-exclusive capabilities, like bullet graphs and scorecards
Important differences between card view and page view
Methods to distribute bursted and personalized content to users via their mobile devices
You can learn more about these events on the SAP Insider web site or follow the BI2015 conversation on Twitter.
See you in Vegas!