For those of you living with the previous edition of the sizing guide, last updated on February 20, 2014, you'll be pleased to know that an update is now available.
The new version of the sizing guide is dated "June 2017" and has been updated with information about the latest release of SAP BusinessObjects BI 4.2 support pack 4. The old Xcelsius-based BI4 Resource Usage Estimator, also known as the BI4 Sizing Estimator, has been retired in favor of the standard SAP Quick Sizer. The document also includes updated sizing guidance for Web Intelligence.
For more information on sizing SAP analytics products, visit Sizing SAP Solutions at http://www.service.sap.com/sizing on the SAP Service Marketplace (S-ID required). Go to Sizing -> Sizing Guidelines -> Analytics, as shown below.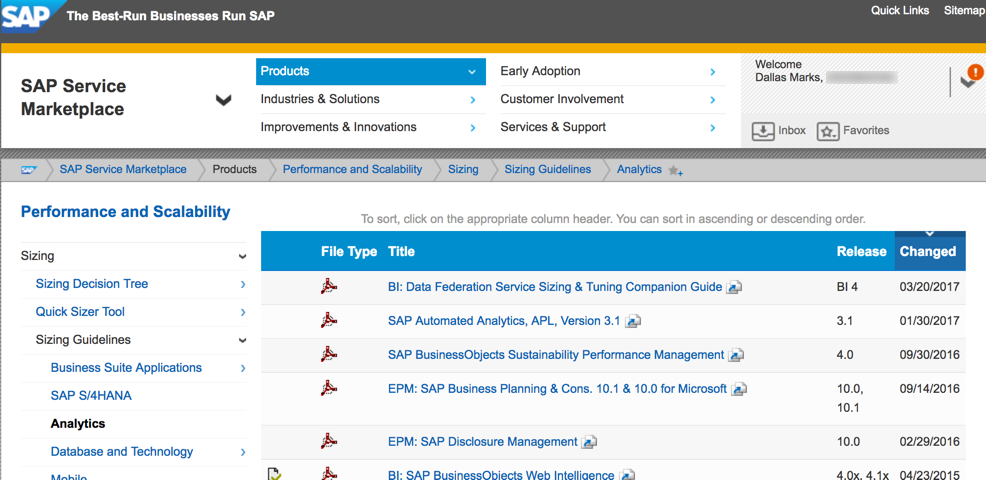 But you won't find the updated SAP BusinessObjects BI4 Sizing Guide there. At least not yet. But you can find it at a new wiki, on the Sizing and Deploying SAP BusinessObjects BI 4.x Platform and Add-Ons page.

This sizing document is extremely important to SAP BI professionals and we're grateful to see it continue to receive updates. Much thanks to Sathish Rajagopal and everyone at SAP who had a hand in creating the latest iteration of the SAP BusinessObjects BI4 Sizing Guide!