An important decision in designing a dashboard or other data visualization is the choice of a font. The most important characteristic of a dashboard font is that it should permit the dashboard user to view and process information quickly. It may seem boring as a designer to always reach for the same fonts. However, any novelty in a dashboard, whether a funky font or animation, can quickly become annoying when a dashboard is used on a daily basis. Older versions of Xcelsius, for example, limited the designer to a single font. Although that limitation was lifted in Xcelsius 2008, limiting the dashboard to one or two fonts is still a great first step in improved readability. Stephen Few offers the following advice:
You want a font that can be read the fastest with the least amount of strain on the eyes. Find one that works and stick with it throughout the dashboard. You can use a different font for headings to help them stand out if you wish, but that's the practical limit.

Information Dashboard Design – Stephen Few – O'Reilly – 2006 – pp. 170-171
Remember that fonts with serifs, such as Times New Roman, give our brains clues and help us read faster. That is why most books are set with serif fonts. However, sans-serif fonts, such as Helvetica or its poor cousin Arial on Microsoft Windows, have a cleaner appearance. Monospaced fonts can help with the uniform display of numbers instead of proportionally spaced fonts; however, the standard Courier can be a bit boring.
Although there are thousands of different fonts available, only a handful are truly timeless. Take Helvetica, for example.
Last week, American Airlines announced a redesign of its logo and its livery. Gone is its previous logo, designed in 1967 by Massimo Vignelli. Considered by many logo designers to be a timeless classic, the retired logo used the Helvetica font, rendering AmericanAirlines as a single word in two bold primary (and, well, American) colors. You can read Massimo Vignelli's thoughts of both the old and new logos in this BusinessWeek interview.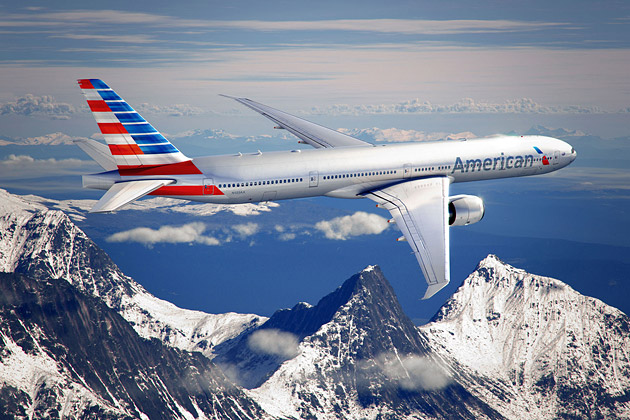 Massimo Vignelli and many other designers share their thoughts in the 2007 documentary Helvetica, which is currently available on Netflix as well as on DVD and Blu Ray at Amazon.com. Because I'm an engineer by training and not a visual designer, I found this documentary to be helpful even though it wasn't specifically about dashboard design. I especially enjoyed viewing it again in light of the American Airlines redesign.
Helvetica served American Airlines well for over 40 years. I doubt that the dashboards we are building today will be in use 40 years from now, but we can still choose to be timeless instead of trendy in our visual designs.
What are some of your favorite fonts for dashboards?
Resources
Disclosure of Material Connection: Some of the links on this web site above are "affiliate links." This means if you click on the link and purchase the item, I will receive an affiliate commission. Regardless, I only recommend products or services I use personally and believe will add value to my readers. Also, some of the books I review were received as review copies and I've given my best effort to accurately disclose that information as part of the review. I am disclosing this information in accordance with the Federal Trade Commission's 16 CFR, Part 255: "Guides Concerning the Use of Endorsements and Testimonials in Advertising."