One of the current drawbacks of the current state of SAP mobile analytics is that not every Web Intelligence document can be rendered via the Mobile BI app. To get around this, SAP leveraged the existing categories mechanism, a seldom-used feature originally brought to the XI platform to allow the migration of categories from classic BusinessObjects 5.x/6.x. There are four default mobile categories, although only three are presently used by the Mobile BI app: Mobile, Confidential, MobileDesigned, and Featured. These are defined in the Central Management Console (CMC) under Applications -> SAP BusinessObjects Mobile BI (wouldn't "Mobile BI" have been enough?) and described in the Mobile BI Report Designer's Guide on the SAP Help Portal. The details about the Featured category are descibed in the Mobile BI Administrator's Guide.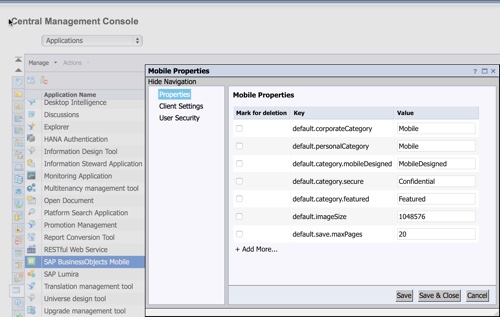 Mobile – The "gatekeeper" category that controls whether content appears on the mobile device. It must be selected regardless of whether Confidential, MobileDesigned, or Featured are also selected.
Confidential – Prevents sensitive content from being permanently stored on the mobile device. Useful, but not a replacement for corporate mobile security policies or the use of centralized mobile device management.
MobileDesigned – Use "page layout" (close to original report design as possible) rather than default "card layout" (Mobile BI makes best guess how to display content).
Featured – Content is automatically downloaded to the mobile device when you log on to a server connection, or when the home screen is refreshed.
These categories are not created by the installation program, so you'll want to create them as a post-installation task. The categories can be created in a flat structure as shown below. With a flat structure, mobile documents must be tagged with the Mobile category and optionally with one of the other three categories.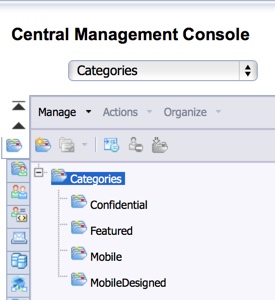 But I prefer to arrange them in a hierarchical structure, as shown below. The benefit to this structure is only a single category is required to tag the document. Tagging a document with MobileDesigned, for example, will automatically tag it with the Mobile category via inheritance.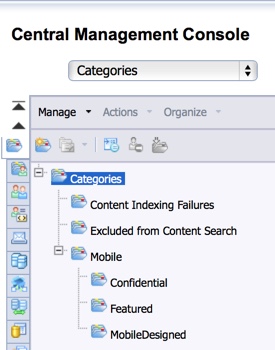 Starting with Mobile BI 6.0, additional categories can be used to further organize documents on the mobile device. I'm not sure why folders have been shunned, other than robust folder structures may have proved too cumbersome for the average mobile executive's thumbs. Below you can see that I've added the categories Candy, eFashion, Pizza, Samples, and WDI to the CMC.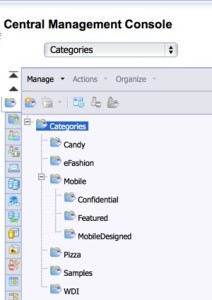 And here's how those categories appear on the mobile device. Notice that category sorting in the mobile app is case sensitive but is not in the CMC.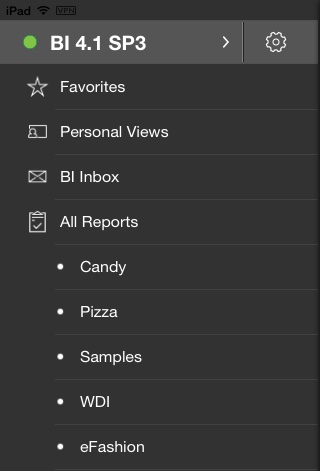 I hope this article will inspire you to create the four default mobile categories and begin exploring the features of the SAP Mobile BI app.
Additional Reading
SAP KB 1851936 – Web Intelligence reports viewed in the SAP Mobile BI app for iOS are rendered differently between iPad generations
SAP Note 2007461 – Non-indexed Explorer Information Spaces are displayed in the report list on the SAP Mobile BI app for iOS
SAP Note 2076233 – Respect Category for Mobilizing Explorer and Xcelsius Content