Just in time for its annual SAPPHIRE NOW conference, SAP is putting the finishing touches on what promises to be a unique add-on to its groundbreaking SAP Digital Boardroom.
SAP Digital Golf Course is built on the same SAP Cloud Platform (formerly known as the SAP HANA Cloud Platform) as SAP BusinessObjects Cloud and SAP Digital Boardroom. "We were in the middle of a design thinking session for SAP Digital Boardroom, brainstorming new ways to get our customers engaged with the product," recalled SAP Digital Golf Course product manager Ty Webb. "Somebody suggested- in jest- that customers would spend more time with SAP Digital Boardroom if they could use its three giant touchscreens to improve their golf swing. Putting an immersive golf course experience on those touchscreens was a given. But then we realized that some of the technology being developed for SAP Leonardo- SAP's Internet of Things initiative- could be leveraged in the design of an electronic golf club. Then things just kind of took off from there," he continued.
"We originally thought of SAP Digital Golf Course as more of a technology showcase than a product," added April Erste, an SAP spokesperson for SAP's analytics portfolio. "But as word spread inside of SAP, we realized that we could have a winning product on our hands."
To improve the realism of the solution, the SAP development team in Vancouver, BC spent time at the nearby Wildstone Golf Course and brought its designer, golf legend Gary Player, onto the project as a consultant. The initial version of SAP Digital Golf Course will include recreations of three Gary Player-designed courses:  the Wildstone course in Canada along with the Bushman Sands course in South Africa and Hidden Tiger course in China.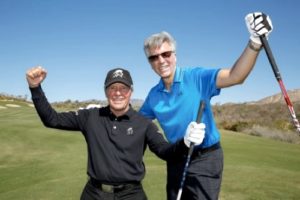 The project also benefited from the expertise of professional golfer Ernie Els, who has been sponsored by SAP for many years. Ernie's feedback helped guide the design team in creating a comfortable grip for the specialized electronic golf club designed for the product.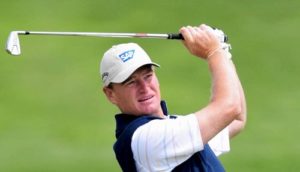 Product manager Ty Webb continued, "There's a force in the universe that makes things happen. And all you have to do is get in touch with it, stop thinking, let things happen, and be the ball. That's what our customers are going to be able to do with SAP Digital Golf Course."
Pricing and availability for SAP Digital Golf Course were unavailable at press time but should be finalized by the time SAP customers arrive in Florida for the annual SAPPHIRE NOW conference. And expect to see SAP Digital Golf Course demonstrated during the keynote speeches and on the exhibition floor.
Follow Bill McDermott on Twitter
Follow Ernie Els on Twitter
Follow Gary Player on Twitter