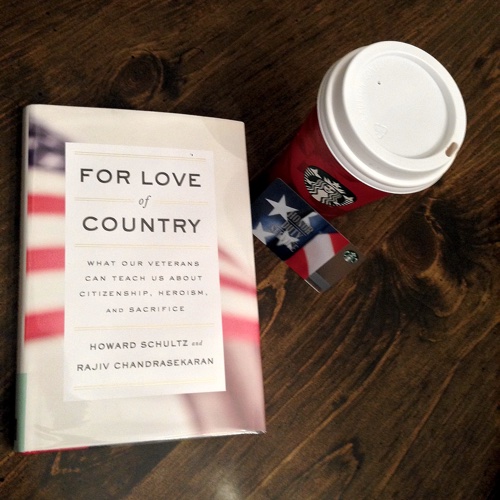 For Love of Country: What Our Veterans Can Teach Us About Citizenship, Heroism, and Sacrifice (ISBN 978-1101874455) is a new book by Starbucks CEO Howard Schultz and Washington Post war correspondent Rajiv Chandrasekaran. The book begins with five stories of bravery from the battlefields of Iraq and Afghanistan. It concludes with five stories of the sacrifice and service veterans continue to make upon returning home. You'll meet real and unforgettable heroes like a sixty-year-old physician that follows his fallen son in military service and a nine-year-old boy who requested "Soldier of Kindness" as the engraving on his father's tombstone.
I found the book difficult to read yet also difficult to put down. Like Starbucks' chairman, I too am inspired to do more than just say "thank you" and move on. The book's web site lists several ways we can all do that.
Proceeds from the sale of For Love of Country are donated to Onward Veterans, a donor-advised fund of the Schultz Family Foundation that supports the successful transition of military veterans and their families.
Disclosure of Material Connection: I borrowed a copy of this book from a public library and did not receive it free from its publisher. Some of the links in the post above are "affiliate links." This means if you click on the link and purchase the item, I will receive an affiliate commission. Regardless, I only recommend products or services I use personally and believe will add value to my readers.I am disclosing this in accordance with the Federal Trade Commission's 16 CFR, Part 255: "Guides Concerning the Use of Endorsements and Testimonials in Advertising."