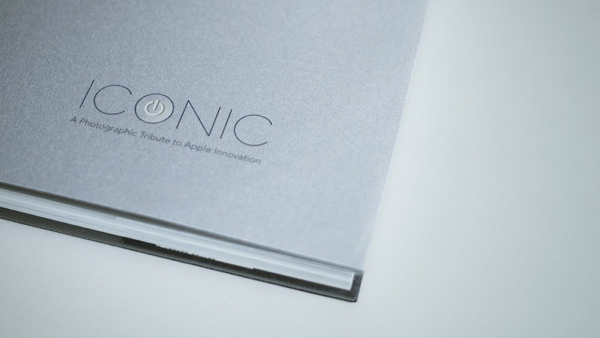 Iconic: A Photographic Tribute to Apple Innovation is a photographic journey through the history of Apple and its groundbreaking products, from the Apple I through today's latest laptops, desktops and iDevices. The book contains 350 pages of over 650 beautifully taken photos of Apple products. It comes in two editions, the "classic edition" hardcover that I purchased and a "special edition" that comes in an Apple II-esque enclosure. The book is the creation of Jonathan Zufi, who is director of SAP's Mobility Innovation Center by day and an Apple fan by night. Over the years, he has accumulated a great deal of vintage Apple products in his Atlanta basement in support of the Shrine of Apple web site that has been beautifully photographed for the book.
My first Apple experience was with the Apple IIe in high school. During my college years, the engineering program was strictly PCs and Sun workstations. Only music and design majors got to use the Apple Macintosh. I didn't own an Apple product of my own until I purchased an iPod in 2006 (see related LinkedIn article, The Butterfly that Started the Apple Tsunami). Since then, my wife and I have had various iPhone models (3G, 3GS, 4 and now we each have an iPhone 5). My home PC is a Late 2009 Mac Mini and my work PC is a MacBook Pro. All of these devices connect to the internet using an Apple Airport Extreme wireless router.
I ordered Iconic immediately after reading the October 3 review in the Wall Street Journal (see related WSJ article, New Book Erects Photographic Shrine to Apple). Sadly, I was on a customer visit when the book arrived at my home. But I promptly opened the box after returning home and hugging my wife and children. It's been a lot of fun to flip through a beautiful record of computing history and remembering what stage of life I was in when a particular device was introduced to the world.
Iconic will raise the stature of any coffee table it's placed on- even the wagon wheel coffee table in When Harry Met Sally.
Disclosure of Material Connection: I purchased this book and did not receive it free from its publisher. Some of the links in the post above are "affiliate links." This means if you click on the link and purchase the item, I will receive an affiliate commission. Regardless, I only recommend products or services I use personally and believe will add value to my readers.I am disclosing this in accordance with the Federal Trade Commission's 16 CFR, Part 255: "Guides Concerning the Use of Endorsements and Testimonials in Advertising."