I've previously written about best practices for installing the 64-bit and 32-bit Oracle clients on a single Microsoft Windows server that needs to support SAP BusinessObjects BI 4 (see related article, Installing Two Oracle Clients on One Server). Those best practices still apply, but I encountered a small wrinkle with Oracle 12c Release 1 (12.1.0.2.0) and apparently I'm not the only one. To the best of my knowledge, I believe the issue is resolved in Oracle 12c Release 2 (12.2.0.1.0).
The installation of the 64-bit client goes smoothly. It's only when you attempt to install the 32-bit client that you may encounter the following error, "[INS-10102] Installer initialization failed."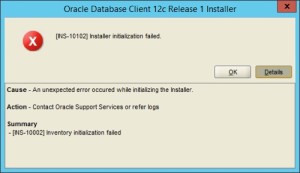 The issue seems to occur when a previous installation of the Oracle 32-bit client (for example, the older 11g client) was previously installed. The registry key named HKEY_LOCAL_MACHINE/SOFTWARE/ORACLE has a value named inst_loc behind, which interferes with the Oracle 12c 32-bit installation.

Simply remove the offending inst_loc value from the registry.

Then you'll be able to install the 32-bit client successfully.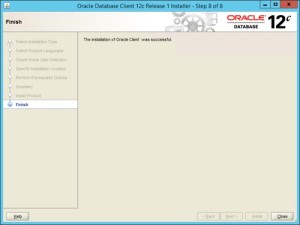 Additional fun with Oracle 12c SQL Loader
The 64-bit Oracle 12c client tools also have a small issue with the SQL Loader utility (sqlldr.exe). SQL Loader is not required by SAP BusinessObjects Business Intelligence 4, but I thought I'd document the issue here anyway – "The program can't start because oranfsodm12.dll is missing from your computer. Try reinstalling the program to fix this problem."

Reinstalling the client tools won't help because the issue is an Oracle defect, which is described on the Oracle Technology Network. To resolve, make a copy of the oraodm12.dll in the bin directory and rename it to oranfsodm12.dll.
What is your experience with SAP BusinessObjects BI4 and Oracle 12c? Share you thoughts in the comments below.