Dan Grippi.
Rafi Sofaer.
Ilya Zhitomirskiy.
Max Salzberg.
None of these men have the name recognition of Facebook's Mark Zuckerberg, Twitter's Jack Dorsey, or Tumblr's David Karp. But in 2011 while enrolled at New York University, these four men conceived Diaspora, a social network and reaction to Facebook's lack of concern for privacy.
More Awesome Than Money: Four Boys and Their Heroic Quest to Save Your Privacy from Facebook (Viking, 2014, ISBN 978-0670025602) was written by Jim Dwyer, who was a fly on the wall from nearly the very beginning of the project. Diaspora's creation had many twists and turns, including the downward spiral of depression and suicide of one of its founders, Ilya Zhitomirskiy.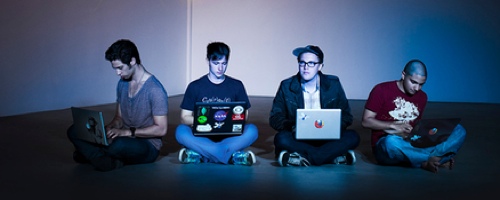 Mr. Dwyer's storytelling reminded me of Tracy Kidder's The Soul of a New Machine, which I had read in high school and was required to read again during a third-year computer architecture course in college. Perhaps More Awesome Than Money should be required reading for today's computer science students, eager to create the next Instagram or Snapchat.
The book challenged my thinking on social media, privacy, the Wikileaks controversy, and even enterprise software vendors' rush to accumulate corporate data in the cloud. It brought back memories of my own participation in a pre-dot-com-bomb startup adventure. And it reminded me that while we can and should find meaning in our life's work, we'll remain empty if that's the only place we expect to find it.
Christine Rosen summarizes the lesson of Diaspora, now an open source project, better than I can. She writes in her review published in the Wall Street Journal:
The tragedy of Diaspora isn't that its creators failed to create a new and better Facebook. It's that a young man who hoped to build a better online social network had a real one so weak that he apparently was able to hide his downward spiral into suicidal depression.
I am a bit disappointed but not surprised that I was unable to find book reviews on the tech web sites that I follow regularly. After all, those sites exist to glorify the tech startup culture and overlook its excesses. But I have linked to book reviews from the New York Times, Wall Street Journal, and Washington Post so you can read other opinions about the book. I was lucky to be the first person to borrow a copy from my local library and I hope you'll be able to read this important story.
Disclosure of Material Connection: I borrowed a copy of this book from a public library and did not receive it free from its publisher. Some of the links in the post above are "affiliate links." This means if you click on the link and purchase the item, I will receive an affiliate commission. Regardless, I only recommend products or services I use personally and believe will add value to my readers.I am disclosing this in accordance with the Federal Trade Commission's 16 CFR, Part 255: "Guides Concerning the Use of Endorsements and Testimonials in Advertising."