This month marks the 35th anniversary of the Radio Shack TRS-80 Model I computer, which made it's debut on August 3, 1977 a few months after the release of the movie Star Wars.  Harry McCracken has written a fantastic piece about it for Time Magazine.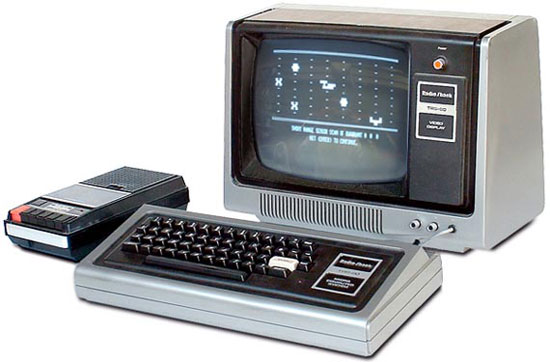 I have a soft spot in my heart for the PC many derisively called the "Trash 80".  I taught myself to program in BASIC on a  TRS-80 while my mom shopped in our neighborhood mall.  A few years later, my elementary school purchased a single TRS-80 color computer, a shocking contrast to my daughters' schools which are filled with Apple iMacs.
I wouldn't have my own personal computer until my parents bought me a Commodore 64.  I was an aspiring musician, so the Commodore's 3-voice music synthesizer chip was a big deal to me.  Our high school was proud of the two Apple IIe computers in the library, although Radio Shack continued to have a presence in the math department.
Owning a light saber or an X-Wing fighter seemed far fetched, even for a nine year old.  But a personal computer?  That was science fiction within reach.  But now its just a memory from a long time ago, in a Radio Shack far, far away.
But a good memory.
What was the first computer you remember using?