On May 12, 2012, on the eve of SAP SAPPHIRE, I ran my first 5k race with my 11-year-old daughter Emily. Emily participated in Girls On the Run, a 12-week program that combines "training for a 3.1 mile running event with self-esteem enhancing, uplifting workouts. The goals of the programs are to encourage positive emotional, social, mental, spiritual and physical development." I'm really proud of my daughter and her accomplishments.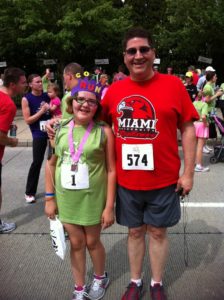 We envision a world where every girl knows and activates her limitless potential and is free to boldly pursue her dreams.
If you can't tell from the above photograph, I'm not a natural athlete. Last year, I couldn't run from my house down to the first stop sign without being out of breath. But in September, I downloaded Active Network's Couch-to-5k app and started running. The goal of the app is to take you from walking to running a 5k in just 9 weeks.
I'd like to tell you that I charged through the workout plan in 9 weeks.  But I didn't.
I'd like to tell you that I ran faithfully during the cold winter months. But I didn't.
I'd like to tell you that I figured out how to work a long day at the office then bee-line to the hotel treadmill.  But I didn't.
I'd like to tell you that I ran a flawless 5k with my daughter. But I didn't.
But here is what I can tell you.
I no longer stop at the stop sign.  I keep running. Much farther and faster than I could last September. And even though my first 5k race is now a memory, I am still running. I've put away the Couch to 5k app and started using RunKeeper. I bought a FitBit, just like Greg Myers. And some bright red Nike running shoes. I'm determined to enter another 5k this summer.
What does this story have to do with business intelligence? Everything.
Real life is messy. Maybe you meant to retire your Desktop Intelligence reports months ago, but they're still lurking around. Maybe your dreams of creating a Business Intelligence Competency Center were shattered by management. Maybe that big career move… wasn't that big after all.
You ran out of breath at the first stop sign.
We can't obtain perfection. We can only strive towards it.
Keep running.
Don't give up.
Learn More