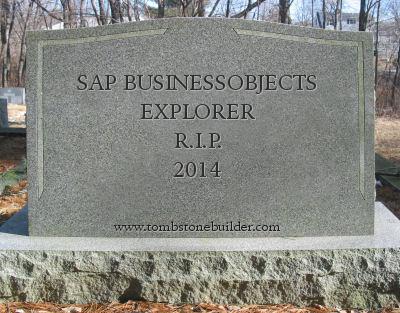 BusinessObjects tool selection, circa 2004.
Desktop Intelligence is like smoking. If you're not presently using Desktop Intelligence, don't start.
SAP BusinessObjects tool selection, circa October 2012
If you're not presently using SAP BusinessObjects Xcelsius, don't start using it.

Yours truly in Between an Xcelsius Rock and Dashboard Hard Place
SAP BusinessObjects tool selection, circa September 2014
If you're not presently using SAP BusinessObjects Explorer, don't start using it.
As part of the simplification of its analytics portfolio, SAP has decided to fold Explorer functionality into Lumira.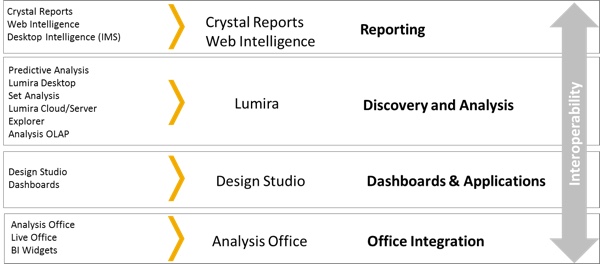 Lumira Server uses the SAP HANA platform, so it's not going to be immediately attractive to every customer- especially one that doesn't use the SAP Business Suite. For customers that won't adopt Lumira Server and SAP HANA, SAP plans to support Explorer "as-is".
In these situations, like with SAP BusinessObjects Explorer, we won't make you move your existing content. We'll respect that existing investment, allow you to continue with what you have today, and at the same time start to bring 'Explorer-like' capabilities into the converged BI experience (in this case, SAP Lumira).

Jayne Landry, Run Simple: Convergence of the SAP BusinessObjects BI Product Portfolio
After the recent #askSAP webcast, I still had my doubts, which I voiced on Twitter.
@DallasMarks it's YES.

— Jayne Landry (@jaynelandry) September 9, 2014
Explorer as-is for customers on the XI 3.1 platform is a product that SAP stopped developing in 2012 for a platform that won't officially be retired until the end of 2015. Customers currently patching XI 3.1 to the latest SP6 or SP7 have to cross their fingers and pray that SAP BusinessObjects Explorer XI 3.2 SP4 will still work properly.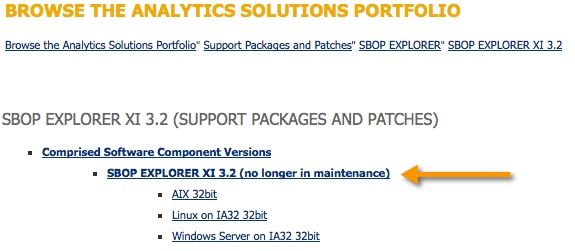 Explorer as-is for customers using the BI 4 platform is a product that hasn't seen a significant update since the addition of exploration views in BI 4.0 Feature Pack 3. Explorer has some clearly unique and attractive features in the larger SAP BI portfolio but is in need of modernization and refinement (see my wish list in related article, Family Planning or listen to the Diversified Semantic Layer podcast, Explorer Gets No Love).
SAP recently announced a HANA-free edition of Lumira Server, to be named Lumira, Edge Edition (see SAP Community Network Article, SAP Lumira, Edge edition: What Is It?). But it remains unclear if Lumira, Edge Edition will provide a HANA-free migration path for existing Explorer customers or merely a server back-end to support SAP Lumira Desktop. Perhaps we'll learn more about Explorer's future during tomorrow's #askSAP community call, How SAP Lumira stacks up against the competition.
Customers already meeting business challenges with Explorer should continue to do so. But I'm still unsure that adopting Explorer is wise for customers who haven't yet begun to use it, without a clear migration path that doesn't require SAP HANA. Perhaps "don't start using it" is too strong advice. But like smoking or using Desktop Intelligence, SAP analytics customers should carefully weigh the risks before starting what could turn into a nasty habit.
What are your thoughts on the roadmap for SAP BusinessObjects Explorer? Would you still recommend it's first-time use in 2014?