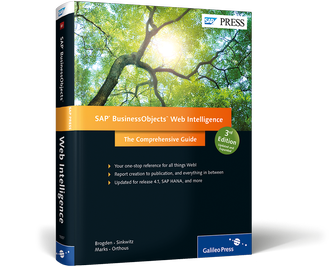 UPDATE (July 7, 2014): What a difference a year makes! The inventory of SAP BusinessObjects Web Intelligence, Second Edition is nearly depleted. We've created an updated Third Edition for SAP BusinessObjects Web Intelligence 4.1 rather than reprint a two-year-old book.
I- along with co-authors Jim Brogden, Heather Sinkwitz, and Gabe Orthous- have received several inquiries asking if SAP BusinessObjects Web Intelligence: The Comprehensive Guide, Second Edition will be updated for SAP BusinessObjects Business Intelligence 4.1 (BI 4.1).  SAP BusinessObjects Business Intelligence 4.1 was released to customers (RTC) last month, is currently in ramp-up, and will exit ramp up and into general availability (GA) later this year once the ramp-up achieves its acceptance KPIs.
In short, there will be no update of the book for BI 4.1.  Its new features and improvements are significant, but most of its features and workflows from BI 4.0 remain intact.  So you can buy the current book with confidence that it will be a great help whether you are using BI 4.0 or BI 4.1. The book is available in hardcover or DRM-free ebook formats for your favorite e-reader or tablet (see related article, SAP BusinessObjects Web Intelligence from SAP Press now in eBook format).
ASUG volunteer and SAP Mentor Tammy Powlas has provided a comprehensive summary of the new features on the SAP Community Network (see SCN article, What is new with Web Intelligence BI 4.1 – Part 2, Core Capabilities). These include the ability to freeze headers, customize color palettes and color assignments, measure delegation improvements, merged object editing improvements, and new usability enhancements like a list of values (LOV) selector in the formula editor.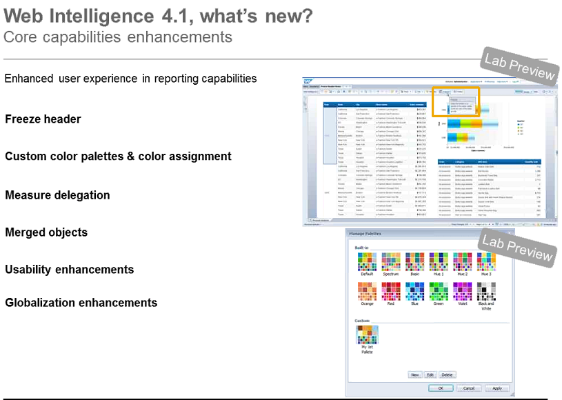 I'm looking forward to putting the new BI 4.1 release through its paces, particularly with the forthcoming Mobile BI 5.0 for iOS update.  I hope to write more about Web Intelligence 4.1 between now and the time it goes into General Availability (GA) later this year.
Resources