Earlier this year, my wife and I got to see Howard Jones in concert from the second row. The last time I saw him in concert was way back in 1989, so I was grateful for the opportunity.
I discovered Howard Jones in my teen years. His groundbreaking use of synthesizers as a "one-man band" was a big inspiration for me. After all, there are so many guitar heroes but so few piano heroes. He was definitely mine. Known for the positive messages in his lyrics, Howard expressed my thoughts when SAP announced revisions to its analytics roadmap just a few days after the concert (see related article, Everything Must Change).
And do you feel scared? I do!
But I won't stop and falter.
Change can definitely be scary. And sadly, you can't stop it. Just like you can't stop having birthdays.
Thanks for all the kind birthday wishes yesterday! It was fun and humbling to see them come in from all over the world. pic.twitter.com/FjYTrFuwtm

— Dallas Marks (@DallasMarks) July 5, 2018
I'm grateful to artists like Howard Jones because at age 63, he's not only riding his past success like No One Is To Blame. He continues to tour and create new music like the autographed Engage CD that I picked up at the concert. His success doesn't magically wipe away the rampant ageism that is in modern IT. But it does give me hope as I grow older.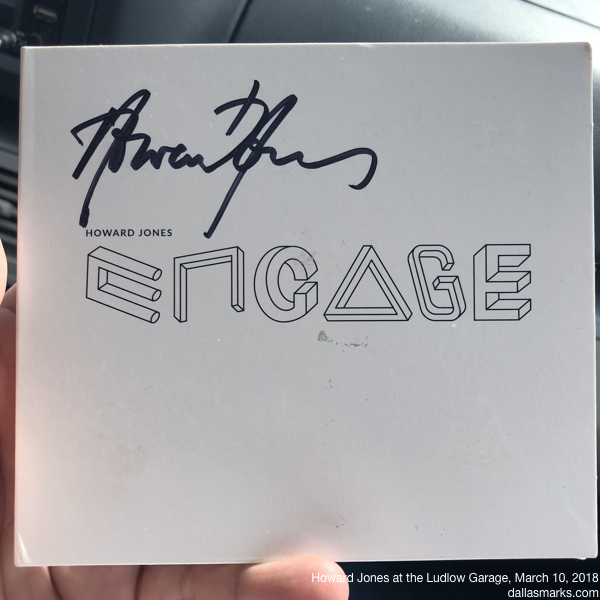 Treating today as though it was the last, the final show
Get to sixty and feel no regret
It may take a little time a lonely path, an uphill climb
Success or failure will not alter it
Don't be fooled by what you see. And don't be fooled by what you hear- especially from Microstrategy. They posted this FUD gem during SAPPHIRE last month.
SAP is phasing out BusinessObjects. MicroStrategy is providing long-term solutions that deliver the capabilities modern business demands. Learn more, including how our consultants can help you create a clear, personalized, and efficient migration path: https://t.co/o7LWP81Vmz

— MicroStrategy (@MicroStrategy) June 4, 2018
Things have actually gotten better during the past few months. SAP has moderated its tone when messaging its analytics customers, committing to delivering SAP BusinessObjects 4.3 in 2019 (see related SAP blog by Mike Flannagan, SAP Customers Champion the Intelligent Enterprise with SAP Analytics Innovations). And SAP is making smaller batches of improvements in the forthcoming SAP BusinessObjects BI 4.2 SP6, expected later this month. In his aptly-named song Those Who Move Clouds, Howard Jones sings:
I wish that I could offer you a chance to change direction.
But you know that pathways must be followed to near destruction.
Sadly, "You can look at the SAP analytics roadmap, but you can't change it" doesn't rhyme. But I'll continue to work on that. In the meantime, this old dog is committing himself to learn new tricks with SAP Analytics Cloud, SAP Cloud Platform, SAP HANA, and even non-SAP technologies. Because things can only get better.
In the meantime, don't crack up. Bend your brain. See both sides. Throw off your mental chains. And don't always look at the rain.
Related Reading