Last week, Xcelsius Guru Mico Yuk pondered on Twitter whether Xcelsius was dead.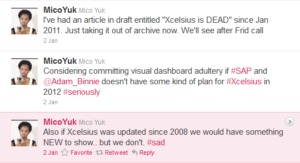 This week, Steve Lucas, SAP's General Manager for Business Analytics, provided new insight to SAP's mobile business intelligence strategy in two blog posts entitled "The Demise of Flash and the Battle for the End-User Experience" and "Putting Mobile First and the New Business Intelligence Priorities".  Steve lays out a three-point business analytics mobility strategy.

First, allow access to existing content like Web Intelligence and Crystal Reports via the SAP BusinessObjects Mobile BI app, currently on the Apple iPad and coming soon for other tablets. Second, provide "high-definition dashboards" using SAP BusinessObjects Explorer, soon to be extended with new functionality known as "exploration views".  And third, a "completely open" development experience for custom business analytics applications on mobile devices. I assume this refers to the Sybase Unwired Platform.
So where does Xcelsius (known on the new BI 4.0 platform as SAP BusinessObjects Dashboards 4.0) fit into this three-point strategy?
It doesn't.
Scroll to the very bottom of Steve's remarks, where we learn that SAP will "deliver an HTML 5 version [of Xcelsius/Dashboards] in 2012". But "this may not make life perfect", which I interpret as an early indicator that the HTML 5 version won't be as robust or powerful as the current Adobe Flash based product.
In my opinion, Xcelsius has become the new Desktop Intelligence. In the pre-web era, Desktop Intelligence was the only BusinessObjects reporting tool. But it was too wedded to Microsoft Windows to make an effective leap to the web browser, so Web Intelligence was created. In a similar way, Xcelsius is too wedded to the Adobe Flash platform to make the leap to mobile devices.
And just like multiple iterations of Web Intelligence were required before it came close enough to the capabilities of Desktop Intelligence, it may take multiple iterations of an HTML 5 product before it can fully replace Xcelsius.  But there isn't time for multiple iterations – customers are demanding mobile analytics now.  And while mobile Adobe Flash solutions from Exxova or Antivia may bridge the gap, adopting Adobe Flash to mobile devices is a short term, not a long term strategy.  Which is why declaring a "mobile first" strategy makes sense.
SAP BusinessObjects customers do not need Xcelsius on their tablets.
They need business intelligence on their tablets. And even smaller mobile devices like smart phones.
Tablets have a unique user interface. A great mobile business analytics tool will design for the device, not retrofit existing paradigms, which explains why Mellmo has been successful with its RoamBI product.  It was designed from the ground up for the era of mobility.
As best as I can tell from this week's strategy announcement, SAP is designating its upcoming Exploration Views (coming later this year in SAP BusinessObjects Business Intelligence 4.0 Feature Pack 3) as its from-the-ground-up mobile analytics tool, not Xcelsius for HTML 5.  "Today, we call this SAP BusinessObjects Explorer" (are we going to call it something else tomorrow?).
This is not all bad news.  Just as SAP has protected customer investments in Desktop Intelligence with a lengthy rather than abrupt retirement, SAP is promising that it will protect customer investments in Xcelsius. And although it's easy to poke fun of Desktop Intelligence today (see related Diversified Semantic Layer podcast, Die Deski Redux), it was only yesterday (OK, so it was 10 years ago) that Desktop Intelligence was absolutely the right answer for business intelligence.  In 2005, Xcelsius was the right answer – think of all the cool solutions that have been deployed since BusinessObjects purchased Infommersion. But in 2012, we need something else.
It's OK to love technology. And its OK to cry when it lets you down and breaks your heart. But always love your users more.
Additional Materials
What do you think of SAP's mobile business analytics strategy?