One of the new features in SAP BI 4.2 is commentary. Although it currently only works with Web Intelligence, it is a feature of the BI platform so we can expect to see other tools such as Crystal Reports adopt it over time. Unlike the depreciated discussions feature, which permitted threaded discussions on a document, the commentary feature allows threaded discussions to occur on a report element such as a Web Intelligence cell.
The commentary feature consists of a Commentary Service (part of the Adaptive Processing Server) and a table named COMMENTARY_MASTER that is created in the Audit schema by default.
Regarding the new APS service, it is not necessary to isolate it in its own process, but it can be added to a "Core" APS as shown in SAP KB 1694041.
Regarding the new COMMENTARY_MASTER table, SAP recommends relocating it to its own database, as the commentary feature can create performance issues for auditing if left configured to the Audit database.
By default, BI Commentary creates and maintains its tables in the Audit database… However, SAP recommends that you configure a new database to store the comments from BI Commentary application. Databases supported for BI Commentary are the same as those supported for Auditing.

SAP BusinessObjects BI 4.2 SP5 Administration Guide
Section 18.1.3.11 Managing BI Commentary Application Settings
And SAP KB 2346055 describes some of the bad things that can happen if the commentary service uses the audit database on a production system.
You'll have to configure JDBC drivers for your database vendor on each node hosting the commentary service. Then configure the new data source in CMC -> Applications -> BI Commentary Application, shown below.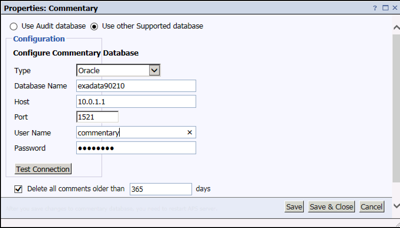 And since you may choose to report on the COMMENTARY_MASTER table, you'll probably want to configure the data source on all the reporting nodes, too.
In my experience, the COMMENTARY_MASTER table wasn't created in its new location until a user actually entered the first comment, so I would recommend that the BI administrator use one of the sample Web Intelligence documents or a personal document to create the first comment and confirm that the table is created and populated correctly.
To learn how to use the commentary feature, check out SAP KB 2269131, which includes a video. Using the side panel, comments can be added to sections, table cells, free-standing report cells, or an entire table block. As of SAP BI 4.2 SP5, comments cannot be added to charts but perhaps support will be added in a future support pack.
In the example below, I have added a comment in a Party Pants Trends report on the Printed Lycra Trousers table cell for New York. Other report viewers can see that a comment has been added because of the yellow triangle in the cell's upper right corner. Comments can be created in either reading mode or design mode, but you must have the Reporting – Enable Formatting security right. This requirement may lead to changes to existing custom access levels.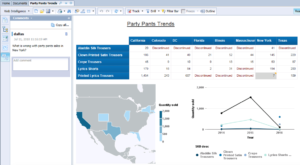 I'm personally a fan of enabling new bells and whistles such as commentary. But if your organization is not ready for the commentary service, you can disable it simply by disabling or removing any commentary services in the landscape. Take a look at SAP KB 2313335 for details.
Perhaps we'll see the SAP BI 4.3 installer prompt administrators to set up the commentary database (and the monitoring database, which defaults to Apache Derby) correctly from the beginning. But for now, setting up commentary is a post-installation configuration step for the SAP BI administrator.
References