Are your Mobile BI users seeing a ERR_WIS_30272 error on their iPhone or iPad when viewing Web Intelligence documents?
Maximum character output size limit reached. Contact your BusinessObjects administrator. (Error: ERR_WIS_30272)
The error is triggered by large temporary XML files, particularly when Web Intelligence is working with large data sets. SAP Note 1370045 describes how to correct the error by increasing the size of the Maximum Character Stream Size of the Web Intelligence Processing Server.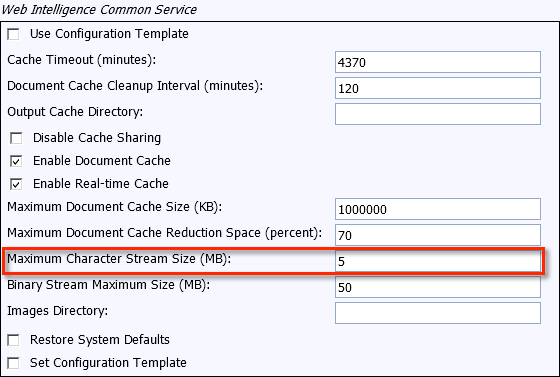 The default value is 5 MB (shown), but a value of 10 or even 20 MB is recommended. According to SAP Note 1826015, SAP Lumira can also benefit from a larger Maximum Character Stream Size when working with data sourced from a universe. And blogger Femke Kooij describes situations where the error can show up in Dashboards (formerly known as Xcelsius) that use Query as a Web Service (QaaWS) or BI Web Services (BIWS) (see related article, Maximum character output size limit reached).
Remember that you'll need to adjust the settings of each Web Intelligence Processing Server in the cluster. Setting and using the service configuration template is a good way to keep these settings in sync across all Web Intelligence servers in your cluster.
Interested in tuning other Web Intelligence Processing Server settings? Matthew Shaw has an excellent article on the SAP Community Network (SCN) entitled Getting the most out of your Web Intelligence Processing Servers.