Last week at its World Wide Developers Conference (WWDC), Apple introduced a product that nobody was really anticipating – iWork for iCloud. iWork is Apple's productivity suite that includes word processing (Pages), spreadsheet (Numbers) and presentation (Keynote) capabilities. Originally designed for the Mac, the apps have also been available on iOS for some time. Later this year, the desktop and mobile apps will be joined by cloud-based siblings, allowing users to access any document from any device (desktop, mobile, web). You can watch the entire WWDC keynote on Apple's web site.
What was particularly stunning about the WWDC demo were the gorgeous animations and transitions in Keynote, rendered in a web browser without any reliance on plug-ins like Adobe Flash or Oracle Java. iWork for iCloud works on either Macs or PCs with Safari 6.0.3 or later, Chrome 27.0.1 or later, and Internet Explorer 9.0.8 or later.
In a similar way, modern browsers have enabled analytics vendors like Tableau to bring browser-based authoring not only to the desktop but to mobile devices as well (see related article, Tableau 8 Roadshow). If the existence of Tableau 8 and Apple iWork for iCloud isn't enough proof that the time is right for Java-free Web Intelligence, perhaps the existence of SAP KB 1754269 and SAP KB 1868143 is.
In Apple's Java plug-in for OS X, for reasons related to platform security, Apple has blocked some of the APIs used by the BI 4.0 Web Intelligence Rich Internet Application (Java Applet). We are working with Apple to design and implement a fix. We plan to deliver a fix in H1 2013.
Web Intelligence relies on Java for many of its advanced features (see related article, The Other Web Intelligence Feature Gap). After being criticized for Java-based security holes, Apple has released new Java updates that have the unfortunate side-effect of crippling Web Intelligence. A difficult spot for a company that appears on SAP's customer list as well as its supported platforms list.
Even Windows PCs think the Web Intelligence Java Report Panel is unsafe (see my related article on EV Technologies blog, Is Web Intelligence Unsafe?).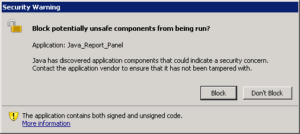 I am ready for SAP to deliver 100% SAP BusinessObjects Web Intelligence with zero plug-ins. I have no inside knowledge that SAP is working toward this goal. But I hope that I'll see a developer labs preview on the upcoming SAP BusinessObjects User Conference keynote stage.
Resources
Vote for Jonathan Haun's idea to enhance Web Intelligence for HTML (non-Java version) on SAP Idea Place
SAP KB 1930493 – When using the Java viewer or Rich Internet Application for web intelligence with Java 7 update 45, a Java warning pop up appears every time you close it
SAP KB 1904873 – Web Intelligence Rich Internet Applet loads slower after installing Java 7 Update 25
SAP KB 1899825 – Expired Web Intelligence Java Certificates for SAP BusinessObjects Business Intelligence 4.0
SAP KB 1851792 – In BI 4.x and XI 3.1 when using Java 7 update 21 and Java 6 update 45 when you close the Web Intelligence Rich Internet Application in the browser you will get a prompt to Block unsafe components
SAP KB 1754269 – When will Web Intelligence Rich Internet Application support Apple Safari 6 browser?
Are you ready for Java-free Web Intelligence?