Today, Apple began accepting orders for its latest computer, the Mac Pro. The new Mac Pro was unveiled last summer at Apple's 2013 World Wide Developers Conference (WWDC). An unusual computer even had an unusual promotional campaign, as Apple released the following WWDC teaser video in movie theaters.
Apple's computer lines are organized into "consumer" and "professional", a practice that began in 1996 shortly after Steve Jobs returned to Apple. A product line previously filled with a glut of overlapping offerings was simplified to just four. A consumer desktop and laptop and a professional desktop and laptop. Apple's product lineup is an acknowledgement that consumers and professionals not only have different budgets, but different requirements as well.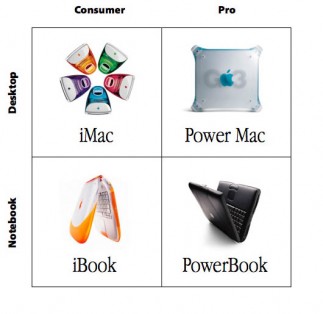 The new Mac Pro was created as a response to (valid) criticism that the previous model was stale and in need of an update. But at the same time, many pundits have questioned the need for a professional desktop due to the increased capability of the consumer-level iMacs.
A similar distinction exists for business intelligence users, typically organized with the terms like "casual user" and "power user" or "analyst". As with Apple's pro users, business intelligence power users are typically a small number of the overall user base. However, by definition, these are the people that are identifying and exploiting new business opportunities for the organization.
Power Users Need Bigger Software
Apple provides Logic Pro for professional musicians but GarageBand for home and amateur musicians. Similarly, it provides Final Cut X for professional movie makers but iMovie for home and amateur movie makers. The products are built around a common core, but the feature set is tailored for each audience.
Power users typically work with larger volumes of data than casual users. That is because they are performing analysis, looking for the proverbial needle in a haystack as opposed to running daily or month-end reports that return smaller data sets.
After years of replacing desktop software with web-based software, the pendulum is once again swinging in the other direction with software vendors providing a new breed of desktop applications known as "data discovery" software such as SAP Lumira, Tableau Desktop, and QlikView.
Regarding older tools such as Web Intelligence, organizations should give their power users with the desktop edition, the Web Intelligence Rich Client. The Rich Client offers a more responsive experience with larger data sets and can interact with local data sources such as Microsoft Excel. Because power users often work in Excel, IT organizations should make available Excel plug-ins such as Live Office or Analysis for Microsoft Office and allow users to discover which data access tool best suits their work habits. And even if you disable certain features of browser-based Web Intelligence for casual users, power users should have unrestricted access to all Web Intelligence features.
Power Users Need Bigger Hardware
Power users also need bigger and better hardware. In many organizations, I've seen power users struggle to use underpowered and aging "standard" desktops. Although the new breed of data discovery tools run on 32-bit Windows, power users will have a better experience if they are given fast desktops with 64-bit Windows and larger amounts of RAM (typically 4 GB or more) than the typical desktop worker. Executive sponsors and BI Competency Centers should work with desktop PC support teams to insure a second tier of more powerful desktop machine is available to their power users.
Power Users Need Enhanced Support
Lastly, power users need enhanced support. A customer ordering a Starbucks Triple Grande Skinny Vanilla Latte gets more attention from the barista than a customer that merely orders brewed coffee. Unlike a casual user's standard routine of daily and monthly tasks, a power user's "typical day" is often atypical, filled with special projects and short deadlines. These users need a higher level of responsive support than casual users who have fairly routine and predictable use of the BI system.
BI competency centers should be staffed with analysts that have bandwidth to address the needs of power users. In some cases, BI organizations have found that embedding and co-locating BICC staff members with users, especially power users, results in higher productivity and higher customer satisfaction for the BI system.
Conclusion
Just as Apple's consumer-level iMacs now have performance that satisfies "pro-sumers", today's BI tools satisfy the needs of a broader audience than they did 10 years ago. But there will always be power users— users that are always pushing boundaries. And there will always be a need to create experiences— with software, hardware, and customer service— that make them as productive as possible.
The new Apple Mac Pro is breathtaking, both to the eye and to the wallet. But it is a serious computer for demanding users. I predict that in the coming year, the Mac Pro will the de-facto choice for product placement on television shows, movies, and software vendor demonstrations. Next year, Tableau will introduce a new version of Tableau Desktop for Mac OS. Perhaps we will see SAP Lumira on a Mac Pro at next year's SAPPHIRE?
Video – Making the 2013 Mac Pro