I'm not sure there's a prize given for the most stale blog post about last month's SAPPHIRE 2011, but this one certainly could be a finalist.  But better late than never.  I was part of the 14,000 screaming SAP fans at the recent SAP SAPPHIRE and ASUG 2011 combined event in Orlando, Florida.  Even better than getting my hands on BI Mobile for the Apple iPad was getting to see Sting in concert.
I arrived early on Sunday and took the time to stroll through the conference area at the Orange County Convention Center.  Construction crews were still working feverishly to assemble vendor booths.  But it was a great opportunity to take photos of the main conference area.  Here is the banner hanging in the corner formerly known as the SAP BusinessObjects corner.  As Timo Elliot recently wrote (see his article Business Analytics vs Business Intelligence?), business intelligence is clearly out and business analytics is in.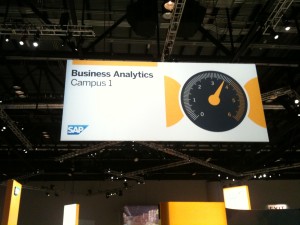 Most of the traditional "BusinessObjects" products were labeled under Business Intelligence, which according to SAP is a subset of their Business Analytics offerings.  The irony of an out-of-focus iPhone 3GS photo of a "see more clearly" sign is purely unintentional.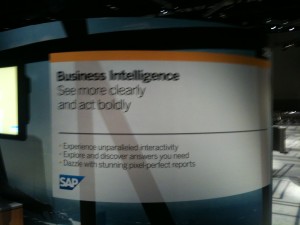 What was conspicuously absent was any mention of the BusinessObjects brand.  After scouring the Business Analytics area, I finally found one sign.  It was on the back of a demo area, not visible to conference attendees walking through the main entrance.  Perhaps it was used to cover up a hole? One lousy mention of SAP BusinessObjects.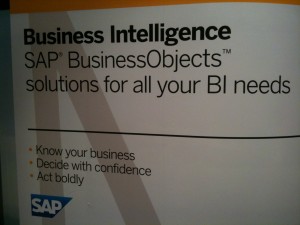 So it would seem that BusinessObjects will soon be in the brand graveyard with other proud brands like Pontiac and Northwest Airlines.  I don't have any inside knowledge about this prediction – just my own photos and my gut. Customers can get attached to brands.  Consultants, too.  It's hard to say "goodbye" to something that has been your livelihood for almost a decade.  And you probably don't even want to ask the Xcelsius Gurus over at Everything Xcelsius for their opinion about SAP's recent branding moves.
But I won't be shedding a tear for BusinessObjects, at least not in public.
The forthcoming release of SAP's BI suite is officially called SAP BusinessObjects Business Intelligence 4.0.  But even the Twitter hashtag has succumbed – it's #BI4, not #BO4 or #BOBJ4.  My prediction is that the next major release will be called simply SAP Business Intelligence 5.0.
If my assumptions are correct, there are two branding questions that deserve further exploration.  First, what steps can an organization that has standardized on BusinessObjects take to prepare their user community for upcoming brand changes (read related article Branding Business Intelligence)?  And second, what steps should BusinessObjects professionals take to update their resume and their own personal brands (read related article SAP BusinessObjects Resume Tips)?  I will answer these two questions in upcoming blog postings.
Will you cry at the BusinessObjects funeral?  Join a twelve-step recovery group?  As always, your comments are welcome.