One dose of Larry Ellison is enough for most people. Unless you need two.  There are two common scenarios for SAP BusinessObjects BI4 customers that require installation of 32-bit and 64-bit client tools on the same server.
The first scenario occurs when the BI platform and its client tools are installed on the same server.  The BI4 platform is (mostly) 64-bit (see related article, SAP BusinessObjects BI 4 is Mostly 64-bit), yet all of its client tools such as the Information Design Tool or Universe Design Tool are 32-bit.  A second scenario occurs when the BI4 platform must support classic Crystal Reports (2011/20132016).  The Crystal Reports processing server requires 32-bit middleware even though new Crystal Reports for Enterprise reports use 64-bit middleware (Microsoft SQL Server users should read my related article More Fun with 64-bit Windows and ODBC).
Distinguishing between the two Oracle installations can be challenging, particularly when default home folder names are used.  The example below has two client tool installations using the default folder names, client_1 and client_2.  But which one is 32-bit?  Which one is 64-bit?  These are questions that shouldn't be asked during groggy 3:00 AM support calls.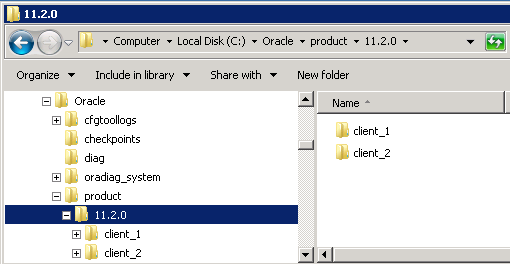 To minimize the confusion, simply rename the default directories when installing the Oracle clients.  The 64-bit middleware should be installed first. I specify a directory name of client_64.  Then I install the 32-bit middleware, using a directory name of client_32. The final result is shown below. Notice that I also use C:\Oracle as the home directory, not the C:\app\[username] nonsense that Oracle sets for the default directory.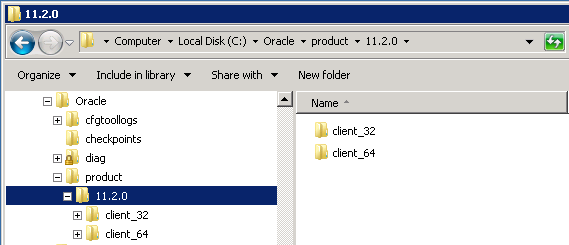 Now there isn't any ambiguity, either in Windows Explorer or in the PATH environmental variable.  The folder names are self-documenting.  Be sure that each installation has an identical copy of a single, standard tnsname.ora file in their respective network/admin folders.
UPDATE (March 31, 2014): Oracle 11g is no longer supported on Windows Server 2012 R2 so I installed Oracle 12c clients for the first time. I typically use the Administrator installation option for both 64-bit and 32-bit clients, but the 32-bit client complained. I opted instead for the Runtime installation option for the 32-bit client, which installed without complaining. This type of install still provides 32-bit SQL*Plus, so that's good enough for me.
I hope this simple naming trick makes your SAP BusinessObjects BI server easier to manage.