UPDATE: Customizing SAP BusinessObjects Business Intelligence 4.1? Read this article instead.
Today, September 16, 2011, is an exciting day in SAP BusinessObjects history and one we've waiting a long time for. SAP BusinessObjects Business Intelligence 4.0 is finally GA (generally available) in the SAP Service Marketplace!

I'd like to say a heart-felt "thank-you" to the hundreds of SAP employees who gave blood, sweat, and probably tears to make the release happen.
Since many folks will be downloading the software this weekend, let's discuss some basic customizations to perform after the installation is complete. In previous posts, I've described how to customize previous versions of SAP BusinessObjects on both Microsoft Windows (see related article, Customizing SAP BusinessObjects Enterprise XI 3.1) and Linux (see related article, SAP BusinessObjects on Linux and Unix – part 3). Today, let's take a look at SAP BusinessObjects Business Intelligence 4.0 on Microsoft Windows. I'm using Windows 2003 Server 64-bit in my examples.
Customization Basics
To simplify the customization of the BI 4.0 web applications, SAP now uses properties files that can be easily changed using a text editor, instead of the previous XML files.  A key benefit of the new approach is that properties files aren't modified by solution packs (service packs) and patches (fix packs). While this should be a huge improvement from previous releases, I still struggle with custom properties files being overwritten by patches, especially from Explorer.
The default location for properties files is the C:Program Files (x86)SAP BusinessObjectsTomcat6webappsBOEWEB-INFconfigdefault directory. To modify properties from their defaults, copy the desired properties file from the default directory to the adjacent custom directory, which is C:Program Files (x86)SAP BusinessObjectsTomcat6webappsBOEWEB-INFconfigcustom.  To make sure your changes are preserved and not lost the next time the WAR files are deployed (typically during patch upgrades), be sure to follow SAP Note 1615492 and copy the custom files to <BOE_HOME>SAP BusinessObjects Enterprise XI 4.0warfileswebappsBOEWEB-INFconfig.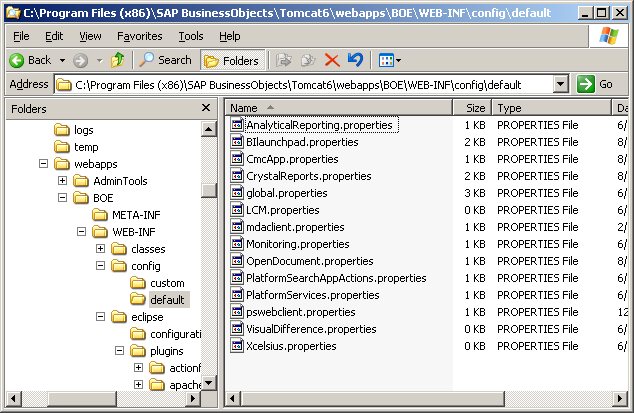 Customizing the BI Launchpad Login Page
BI Launch Pad is the name of the BI 4.0 user portal, formerly known as InfoView. Its settings are located in BIlaunchpad.properties.
NOTE: You'll want to install SAP BusinessObjects Explorer (which has a separate installation program) first before customizing the properties files, as it appears to wipe out the changes.
The first three parameters in the file are app.name, app.name.greeting, and app.name.short and behave identical to their XI 3.1 counterparts.  The app.name.short attribute is used for the "greeting" and the <TITLE> tag of the InfoView home page while app.name is used for the <TITLE> tag of all other BI Launchpad pages. As best as I can determine, the app.name.greeting is unused.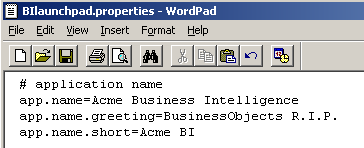 And here is the result of the changes to my BIlaunchpad.properties file.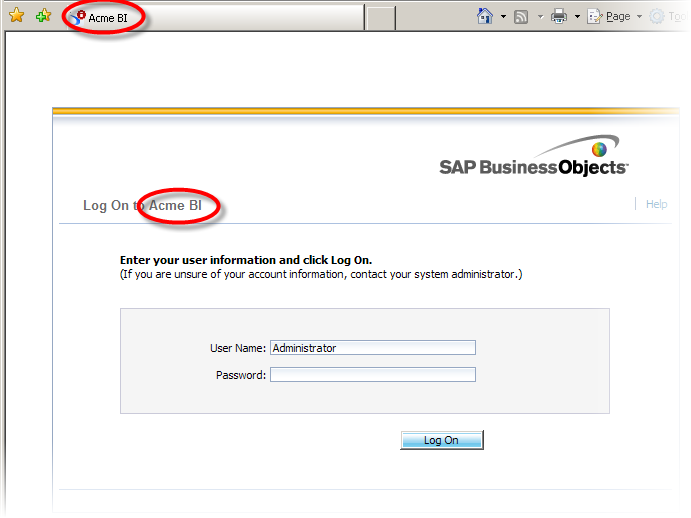 Although I made my "short" name shorter than my regular name in this example, in real life I would put the longer "Acme Business Intelligence" on the login screen using the app.name.short property and the shorter "Acme BI" on all other pages using the app.name.
You'll most likely want to make similar changes to the default system (CMS) and authentication related properties in the CmcApp.properties and OpenDocument.properties files.  You can also set a default system and authentication type for the Web Intelligence Rich Client by following SAP KB 1821519.
Adding or changing Favicons
If you want to dress up your users' browser with a favicon, overwrite the standard Tomcat favicon.ico file with your own at <INSTALLDIR>/Tomcat6/webapps/ROOT then restart Tomcat.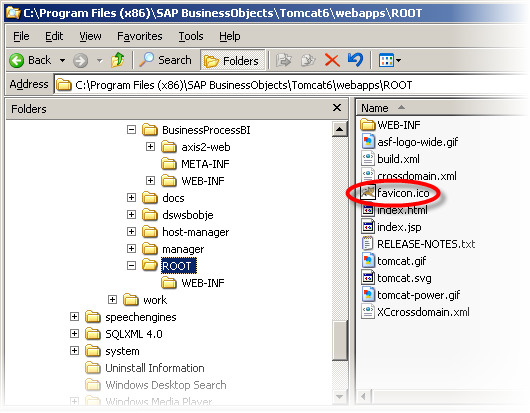 Here are the favicon locations for the BI Launchpad, Central Management Console (CMC) and others. I like to replace the BI Launchpad and Explorer favicons. I prefer to leave the CMC favicon as-is, as only a few people see it and it's easier to find when multiple browser tabs are in use.

Place new InfoView.ico in C:\Program Files (x86)\SAP BusinessObjects\Tomcat6\webapps\BOE\WEB-INF\eclipseplugins\webpath.InfoView\web\images. Place new explorer.ico in C:Program Files (x86)SAP BusinessObjects\Tomcat6\webapps\explorer.
Be sure to clear Tomcat cache C:\Program Files (x86)\SAP BusinessObjects\Tomcat6\work\Catalina\localhost before restarting.
Changing the Default Web Intelligence Paper Size
When SAP BusinessObjects Business Intelligence 4.0 is initially installed, the default page size is A4.  This international standard (see Wikipedia) is used nearly around the world but is not the same as the standard Letter size used in the United States and Canada.

Previous versions of Web Intelligence stored the default paper size in a file named defaultconfig.xml. This file remains in BI4 virtually unchanged from previous releases, but it is now located at C:\Program Files (x86)\SAP BusinessObjects\Tomcat6\webapps\BOE\WEB-INF\eclipseplugins\webpath.AnalyticalReportingweb\WEB-INF\classes. But BI4 no longer uses this file to define default paper size. Instead, Web Intelligence 4.0 derives attributes like page size, header size, footer size, and margins from a Cascading Style Sheet (CSS), not the old XML configuration file.  The procedure for changing the default paper size from A4 to Letter can be found on this article I wrote for the EV Technologies blog.
NOTE: Existing reports will still have the page size set when the document was saved; however, this modification will change the default page size setting for all new documents.
SAP BusinessObjects Business Intelligence 4.0 Launch Pad Default Preferences
My colleague Chris Greer has a great write-up on setting default user preferences, either by user or group, which is a new feature of the BI 4.0 platform.
Conclusion
We've looked at customizing the BI Launch Pad home page, the favicons, and the Web Intelligence default paper size. I'll update this post periodically as I discover useful ways to further customize the default SAP BusinessObjects experience.
Resources
Update History
January 5, 2015 – Added link to SAP KB 1586824
November 25, 2014 – Added link to SAP KB 1218598
August 16, 2013 – Added link to SAP KB 1821519 via Anibal Goicochea
July 25, 2013 – Added link to Chris Greer's write-up on BI Launch Pad user preferences
June 25, 2013 – Added links to Christina Obry's tutorials on the SAP Community Network
May 7, 2013 – Added SAP Note 1615492 for preserving properties files
January 17, 2013 – Added SAP Notes for BILaunchpad.properties
January 9, 2013 – Added SAP Notes for logo customization
January 2, 2013 – Added resources to some articles by David Lai and updated OEM guide link to SP5
December 3, 2012 – Added link to BI 4.0 page size article
October 12, 2012 – Added reference for changing default paper size
August 29, 2012 – Added link to OEM guide
January 24, 2012 –  Corrected post so that changes are made in custom, rather than default, properties directory.
Do you have a favorite customization for BI 4.0? Please share with the world as a comment to this post.