Earlier this week, SAP hosted one of their ongoing SAP Analytics Innovation Community calls for Self-Service BI and SAP Lumira, hosted by my fellow Diversified Semantic Layer contributors Jamie Oswald and Josh Fletcher with presentations by SAP's Jayne Landry, Olivier Duvelleroy, and Aaron Graber (see Nic Smith's official wrap-up article). The SAP Lumira roadmap is a combination of here now, coming soon, and coming sometime (I think the rumored SAP Lumira Desktop for Mac OS X falls in the latter category). But the big news (from my perspective) was the announcement that Lumira Server, currently in ramp-up and soon to be generally available, will be included in the BI Suite license. Lumira Server is built on SAP's HANA platform and will offer us a glimpse into what I believe is SAP's future-state BI platform (see related article, Thoughts on BI 5.0).

Allowing early adopters to get a preview of the future is smart marketing on SAP's part. But I, like many SAP BI practitioners, must live in the present with the current platform. Let's consider the upgrade from BI 4.0 to BI 4.1, which consists of- at a minimum- two components. A base installation or upgrade of the BI 4.1 platform, for example BI 4.1 SP2 and possibly a patch, such as the now-available BI 4.1 Patch 2.2. A similar patching strategy is required on the desktop, where you might have the BI 4.1 platform client tools (Web Intelligence, Information Design Tool, etc.), Dashboards, Crystal Reports 2013, and Crystal Reports for Enterprise.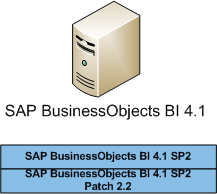 But what if you are using Explorer? Now there are four moving parts: the BI 4.1 platform, the separate Explorer 4.1 installation, and a patch for each.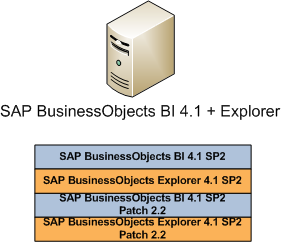 SAP BusinessObjects Explorer has been a separate installation since its debut as Polestar on the XI R2 platform. But I had hoped that BI 4.0 would integrate its installation with the rest of the platform. Because Explorer retains its Adobe Flash foundation, no doubt SAP has decided to defer tight integration with the BI platform until an HTML5-based successor is available, which unfortunately wasn't the case when BI 4.1 shipped last year.
Using Design Studio? SAP Design Studio is the current successor to BEx Web Application Designer and eventual successor for Xcelsius/Dashboards. You'll need to install the Design Studio server components, which are also an add-on to the BI platform. To make things more interesting, Design Studio has its own product life cycle with unique versioning, product availability matrix, and documentation because it is capable of generating stand-alone applications that aren't strictly tied to the SAP BusinessObjects BI platform. So today you'll have the Design Studio 1.2 server components and possibly a service pack, as Design Studio tends to be patched to maintain compatibility with SAP HANA's latest patch levels. So far, my experience is that the Design Studio server components installer is particularly lethargic. And don't forget to patch the Design Studio client application.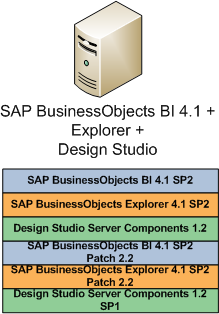 Based on what I heard this week, the diagram below is my approximation of what is involved to run SAP Lumira Server as part of your environment (sidenote – Microsoft Visio does a terrible job with color selection when exporting JPG and PNG files).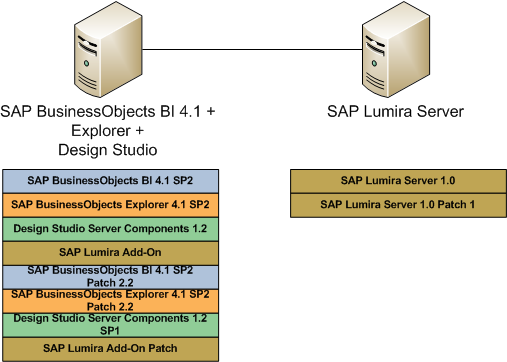 There will be a separate plug-in for the BI 4.1 environment (and eventually a patch, I presume) and the platform software and a patch for the SAP Lumira server. As with Design Studio, I would expect software availability on both sides to not be based on the BI 4.1 patching schedule. With new releases of SAP Lumira Desktop approximately every 6 weeks, the odds of needing to patch your environment to take advantage of new features (similar for what we already do with SAP Mobile BI and SAP HANA) are high. UPDATE: SAP is revising their BI4 + Lumira Integration Strategy (see related SAP Community Network article, Planned Native Integration of Lumira into BI Platform Details).
SAP's recent work to support parallel node patching is helpful. You'll want to download Foroohar Rafiei's Patching Strategies and Best Practices + Parallel Patching guide from the SAP Community Network (SCN).
But can I gently suggest that there are simply too many moving parts here?
SAP Lumira is part of SAP's response to desktop data discovery competitors like Tableau and Qlik. But another part of SAP's response is the message that "those vendors do not have a true Enterprise BI solution". I'm speculating that we'll eventually get an HTML 5 version of Explorer + Lumira in a blender that will eliminate some of the current pieces. But it is extremely inconvenient that SAP has placed platform integration on customer shoulders instead of integrating the pieces in-house. Until they do, line-of-business users are going to continue to perceive IT's lack of agility in platform support as further reasons to head to the cloud, with or without SAP as the vendor of choice. Even if SAP can quickly port existing BI apps like Crystal Reports and Web Intelligence to the HANA-based Lumira Server platform (heck- if they're even planning to- we simply don't know right now), I believe many customers will remain with the current BI 4.x platform, as they did with Desktop Intelligence, for many years to come.
For now, BI administrators should carefully estimate their BI 4.1 upgrade estimates based on the number of nodes and number of software components.
This article barely scratches the surface of this week's Self Service BI and SAP Lumira webcast. What are your impressions?