Secrets of Analytical Leaders by Wayne Eckerson is, in many ways, a sequel to his earlier (and excellent) Performance Dashboards (see related article). The author provides the organizational structure and a majority of the conceptual material, but what makes it a fascinating read is the real-life commentary from seven analytical leaders that he carefully weaves into the book's narrative.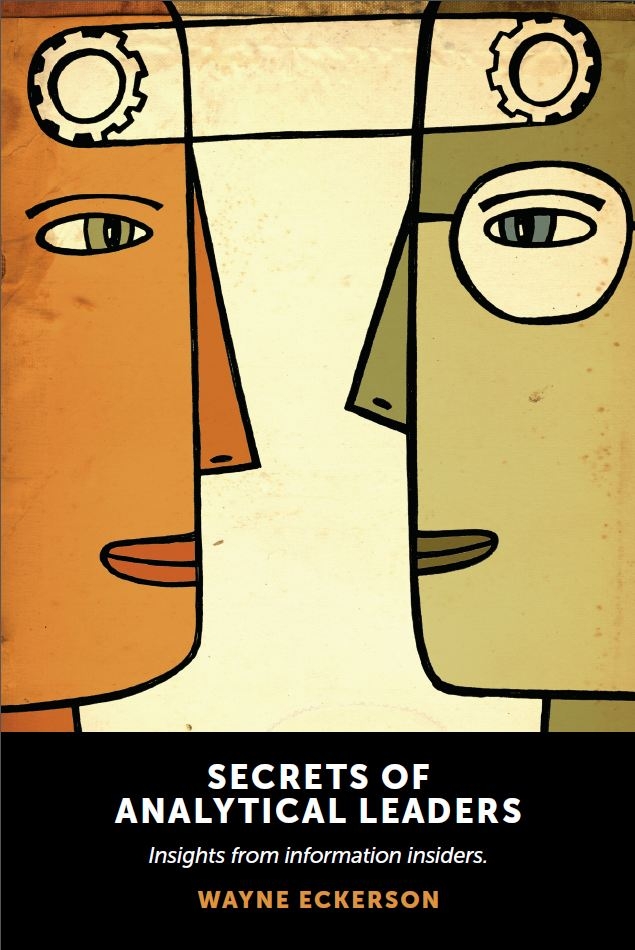 The book consists of twenty chapters covering the entire analytical landscape.  On the hard technical side, Mr. Eckerson answers timely questions such as how to create an agile data warehouse and identifying the role of big data. But he also addresses the soft side of leadership, such as gaining executive support, building momentum for your analytics program, and proper staffing and organization.
Mr. Eckerson defines analytical leaders as "purple people", being neither "blue" business leaders or "red" technology leaders but a balanced blend of the two. And although it is tempting to only focus on the technical issues of managing an analytics program, he cautions:
The biggest factor that determines analytical success does not involve technology; rather, it involves leadership. Successful analytical leaders provide vision, guidance, and support to their teams, and they model and continually reinforce the importance of communication, teamwork, and execution. Specifically, they establish strong partnerships with top executives and business unit heads; they hire top-notch developers and analysts who understand the business and generate valuable insights; they organize and motivate their teams to deliver outstanding results; and they run projects that exceed user expectations and finish on time and within budget. In short, analytical leaders create and maintain a culture of excellence.
In my view, part of what makes the analytical leaders in the book successful is the scope of their mandate.  They haven't been asked to "manage" a team of data architects or report developers. They haven't been asked to "manage" a single vendor's business intelligence platform and its contribution to an organization's overall analytics landscape.  In fact, they haven't been asked to "manage" anything. They have been given the mandate to demonstrate leadership and transform how their organizations do business with the intelligent and effective use of data.
The book concludes with a look at the future of analytics. While new technologies like Hadoop, cloud computing, mobile computing and in-memory database architectures are changing how analytics are delivered to our organizations, our end goal remains the same as it has for many years.
Beyond new computing platforms, the future of analytics will continue its relentless march toward delivering the right information to the right people at the right time.
As with Wayne Eckerson's previous book Performance Dashboards, Secrets of Analytical Leaders could serve well for an analytics book club, with business leaders and technology leaders coming together weekly to discuss each chapter and answer the big questions the book is asking.  While much of the advice is "best practice", it is certainly not "common practice" in many organizations.  But it could become common practice and this book can be a valuable resource to help your organization achieve that goal.

Disclosure of Material Connection: I received this book free from the publisher. I was not required to write a positive review. The opinions I have expressed are my own. Some of the links in the post above are "affiliate links." This means if you click on the link and purchase the item, I will receive an affiliate commission. Regardless, I only recommend products or services I use personally and believe will add value to my readers.I am disclosing this in accordance with the Federal Trade Commission's 16 CFR, Part 255: "Guides Concerning the Use of Endorsements and Testimonials in Advertising."