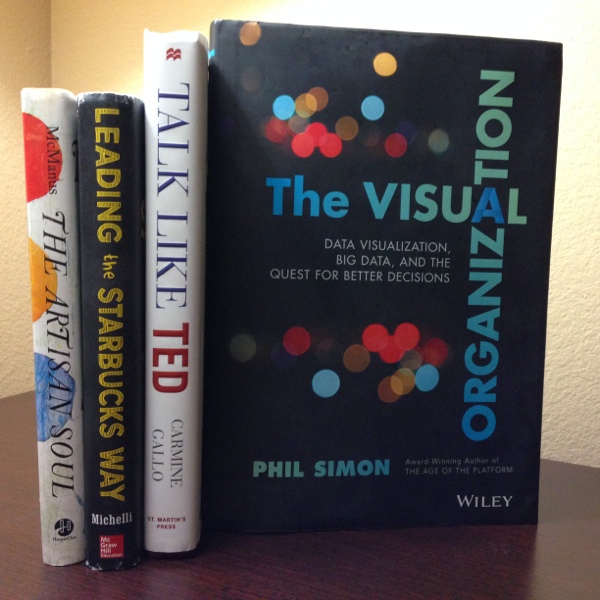 The Visual Organization: Data Visualization, Big Data, and the Quest for Better Decisions (ISBN 978-1118794388) is the latest book from technology writer and speaker Phil Simon. The Visual Organization is Mr. Simon's sixth book and his work regularly appears publications such as the Huffington Post, Inc., and Wired. The book's story begins on May 17, 2013, the day that Tableau Software went public on the New York Stock Exchange. Unlike Facebook, which had a disastrous opening day, Tableau's stock shot up 63 percent, providing a market capitalization of over $2 billion.
In a few years, we may look back at May 17, 2013, as the dawn of a new type of company: the Visual Organization.

Phil Simon, The Visual Organization, page xxiii
Mr. Simon defines a Visual Organization as follows-
A Visual Organization is composed of intelligent people who recognize the power of data. As such, it routinely uses contemporary, powerful, and interactive dataviz tools to ask better questions and ultimately make better business decisions.

Phil Simon, The Visual Organization, page 19
Although most organizations keep their big data and data visualization breakthroughs out of sight as a competitive advantage, The Visual Organization offers a look into three different visual organizations:  Netflix, the University of Texas, and startup Wedgies.
Mr. Simon identifies data visualization tools from five different sources: applications from large enterprise software vendors (think SAP), proprietary best-of-breed applications (think Tableau), popular open-source tools (think D3.js and R), design firms, and small start-up vendors. I was hoping for more in-depth coverage of what tools are currently on the market. For example, SAP is described in a table as only having "BusinessObjects BI OnDemand and SAP Lumira Cloud". But neither offering is discussed in detail, nor do these two products completely illustrate SAP's current data visualization offerings. And while there is a table describing the strengths and weaknesses of traditional reporting tools, analysis tools, and "contemporary dataviz tools", the book needs to make a stronger case to the reader (who is no doubt trying to make their own case) why an organization's existing tools may or may not be sufficient and why new investment is in order. Although the book is part of Wiley's SAS Business Series (SAS tools are featured in the University of Texas case study), it mentions Tableau frequently enough (it's used by Netflix) leaving this reader with the impression that Mr. Simon believes that nobody ever got fired for buying Tableau (see related article, Nobody Ever Got Fired for Buying Tableau).
The book concludes with several chapters organized around the theme of "Getting Started: Becoming a Visual Organization". Mr Simon insists that "the next chapters should not be considered a step-by-step checklist for beginning a Visual Organization," but I believe many readers are asking exactly that- "how do I get my organization from its current state to becoming a visual organization?" Perhaps Mr. Simon will answer this question in his next book.
Disclosure of Material Connection: I received this book free from the publisher. I was not required to write a positive review. The opinions I have expressed are my own. Some of the links in the post above are "affiliate links." This means if you click on the link and purchase the item, I will receive an affiliate commission. Regardless, I only recommend products or services I use personally and believe will add value to my readers.I am disclosing this in accordance with the Federal Trade Commission's 16 CFR, Part 255: "Guides Concerning the Use of Endorsements and Testimonials in Advertising."