Now is the time of year when SAP BusinessObjects administrators begin daydreaming of exotic destinations like Mediterranean cruises. Or family holidays to Walt Disney World. But the software engineering team at SAP had some different ideas about exotic destinations when developing SAP BusinessObjects Business Intelligence 4.x.
Sending documents to other users and destinations is one of the features of the SAP BusinessObjects user portal, known as the BI Launch Pad beginning with SAP BusinessObjects Business Intelligence 4.0 and as InfoView in prior releases. With sufficient access rights, users can send documents to one of four standard destinations (BI Inbox, Email, File Location, and FTP Location).
One of the frequent criticisms of prior versions was that all four destinations were displayed by default, even if they weren't enabled or configured. The only opportunity for out-of-the-box customization was to completely disable the Send button via rights- an all or nothing proposition. A popular modification request was to only show destinations that the organization was actually using; however, this modification required customization of the BusinessObjects web application source code. These source code modifications had to be carefully managed externally, as they were always in danger of being overwritten by a service pack (now known as a support pack) or fix pack (now known as a patch).
In a moment of serendipity, I discovered that BI 4.0 includes some helpful improvements. The screen shots below are taken from SAP BusinessObjects Business Intelligence 4.0 Support Pack 2 (SP2) Patch 10.
Only Enabled Destinations are Displayed
For the first time in SAP BusinessObjects history, only destinations enabled by the Adaptive Job Server are presented to users. So out of the box, only the BI Inbox is shown.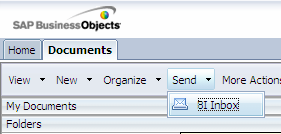 The BI Launchpad now has intelligence and only shows destinations that have been enabled by the SAP BusinessObjects administrator. For example, our current environment only enables BI Inbox, Email and File Location, leaving the FTP Location disabled.

Because the FTP destination was never enabled, it does not appear on the Send menu.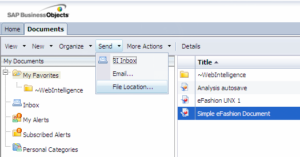 Now lets enable the FTP Server in the Central Management Console.

As expected, all four destinations now appear in BI Launch Pad, including FTP Location.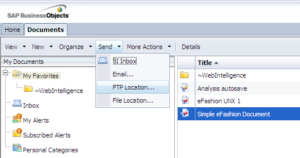 Each Destination Can be Individually Secured
So those are unilateral settings for all users of the BI platform.  But what about limiting access to these destination by user or group? For the first time in SAP BusinessObjects, there are individual rights for each of the four destinations. Prior to BI 4.0, there was a single right that controlled whether the Send button was enabled or disabled. The four destinations can be independently configured in custom access levels, then assigned to users and groups per your security requirements.

Conclusion
These enhancements are certainly not marquee features likely to be demoed from a keynote stage. However, they have been on the feature request backlog for some time. It is great to see tangible proof that SAP is listening to business intelligence administrators, not just business users.
A modest but very welcome enhancement to the SAP BusinessObjects BI platform.
SAP KB 1620597 – "Send to" option in BI Launch Pad does not show expected destinations
SAP KB 1603377 – How to enable the option "Send to" within BI Launch Pad
Have you made any serendipitous discoveries of BI 4.0 improvements?