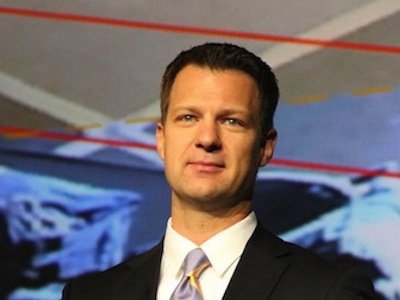 A couple of weeks ago, SAP made some analytics news in a Venture Beat article by Sean Ludwig. In the article, Steve Lucas, President of SAP Platform Solutions ended all speculation with the following remark,
"We aren't going to buy Tableau. There's no need to buy an overvalued software company."

Steve Lucas, President, SAP Platform Solutions
July 30, 2013 Venture Beat article
Regardless of whether one finds recent IPO darling Tableau overvalued (see stock quote for $DATA on Yahoo Finance), I believe that the existence of SAP Lumira (formerly SAP Visual Intelligence) alone is proof enough that SAP has no current intention to inquire Tableau. But I do wonder if the catalyst for SAP Lumira's development was Tableau's rejection of a pre-IPO and pre-Visual Intelligence offer from SAP.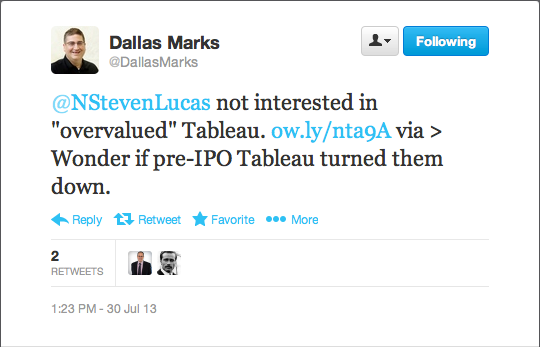 The Venture Beat article had several other insightful quotes from Steve Lucas.
"HANA is not just a database"
No, it is not. Although SAP HANA was first positioned as a "game changing" in-memory database platform, it is evolving into an application platform that we'll continue to see as the foundation of new product offerings- both on-premise and in-cloud- from SAP. It's not unreasonable to imagine a future version of the SAP analytics platform powered by HANA rather than simply supporting it as a data source.
"SAP needs to set its sights on new directions in analytics. We're going to make life miserable for our competitors."
I've said before that I view SAP Lumira as a response to Tableau and to a lesser extent Qlik and Tibco Spotfire.  While interesting, I don't find it particularly "new". Also, many customers who have looked at Lumira say that it shows promise but is still behind in maturity compared to Tableau. Will Lumira be the "new direction" in analytics or will it be something as-of-yet unseen by the general public?
"Business intelligence is our birthright," Lucas said. "You can't walk away from 60,000 customers."
Maybe you can't walk away from them, but they can walk away from you. For classic BusinessObjects customers, the transition to SAP's ownership of the platform and the introduction of SAP BusinessObjects Business Intelligence 4.0 could have been smoother (see related article, Are You Better Off?).
"This is the beginning of a new era for SAP as we shift our focus from the analytics tools of the past to looking toward the future," Lucas said on a final note. "We're shifting the company away from what we had 15 years ago."
Hmmm…  What did we have 15 years ago?  Crystal Reports? SAP BusinessObjects Desktop Intelligence? SAP Business Warehouse (BW)? All of the above?  After spending the last decade converting hundreds or thousands of Desktop Intelligence reports to Web Intelligence, will customers be asked to convert them again to something else? The anonymous CEO of cubicle 36 had this to say on Twitter.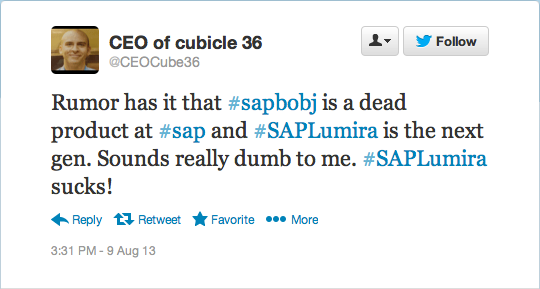 I do not know if SAP BusinessObjects is indeed a dead product, but I can understand why customers may feel that way.
Steve Lucas has a long and distinguished tenure with BusinessObjects and now SAP. I have tremendous respect for him and am very pleased that he is leading the analytics charge at SAP. His keynotes are always engaging and he frequently says things that tend to make the SAP executives sitting in the front row squirm a bit. And who can forget the skinny jeans or necktie cutting demos?  But seriously. Tomorrow, Steve Lucas will be speaking with Mico Yuk about the future of SAP Analytics on an "All Access Analytics" webcast (formerly "All Access SAP" – a curious rebranding). You can learn more and register on a bright new shiny website, AllAccessAnalyics.com.
What do you think Steve Lucas will announce tomorrow?