Which 80's hit captures your reaction to today's #askSAP webcast for BI Strategy and Direction? According to my unscientific poll, 38% of the respondents had a negative reaction ranging from "Shattered Dreams", "What Have I Done To Deserve This", to the most popular selection, "I Don't Care Any More". 32% of the respondents had a hopeful reaction, represented by songs "Things Can Only Get Better" and "Don't You Forget About Me". And 30% had a positive reaction, responding that "Jayne's Getting Serious" about analytics. Those SAP customers are "Walking on Sunshine" in "Paradise" with their SAP HANA-powered analytics.
Today, Jane Landry published a follow-up piece from the webcast, #askSAP Analytics Community Call: SAP BusinessObjects BI Strategy & Roadmap Wrap-Up and Replay. There's also a link to an extensive Q&A document that's worth reading.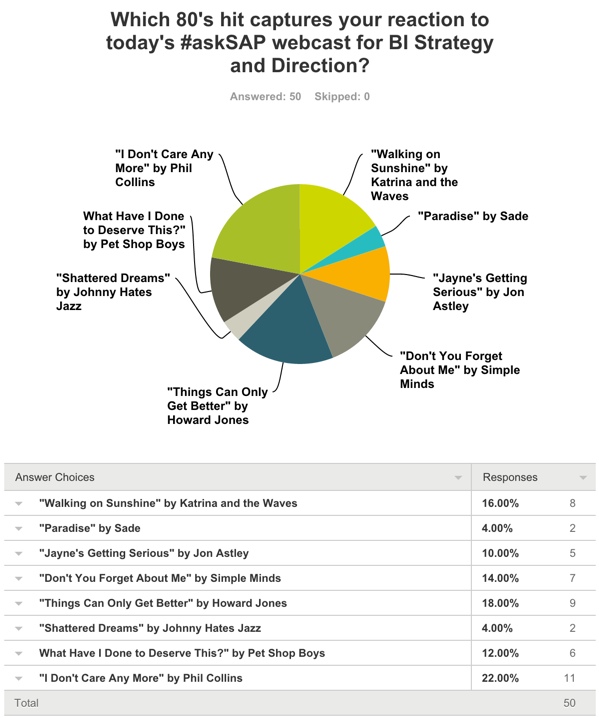 I'll leave it to others to analyze the data using SAP Lumira. Thanks to everyone that voted – it was fun!
The Videos
"I Don't Care Any More" by Phil Collins – 22%

"Things Can Only Get Better" by Howard Jones – 18%

"Walking on Sunshine" by Katrina and the Waves – 16%

"Don't You Forget About Me" by Simple Minds – 14%

"What Have I Done to Deserve This?" by Pet Shop Boys – 12%

"Jayne's Getting Serious" by Jon Astley – 10%

"Paradise" by Sade – 4%

"Shattered Dreams" by Johnny Hates Jazz – 4%